Product Description
HRC Flexible rubber Camlock shaft coupling types of spider coupling HRC B/F/H Couplings Custom Coupling With Taper Bush Bushing Shaft Couplings
 
Product Description
Installation is quick and easy without special tools required, only a hexagonal wrench is needed
Maintenance is virtually eliminated without the lubrication required
The electro-metric element allows HRC to be suitable for use in most conditions
In the unlikely event of the flexible element being destroyed, the drive will be maintained by the inner action of the integrally cast driving dogs
Product Parameters
Type F&H
Bored to size
A
B
E
F
G
L1
L2
L3
J
SIZE
BUSH
Bore
C
D
Bore
C
D
MAX MIN
MAX
MIN
70
1008
25
9
20.0 
23.5
32
10
20
23.5
69
60
31
25
18
65
66.5
68
29
90
1108
28
9
19.5
23.5
42
10
26
30.5
85
70
32
30.5
22.5
69.5
76
82.5
29
110
1610
42
14
18.5
26.5
55
10
37
45.5
112
100
45
45
29
82
101
119
38
130
1610
42
14
18.5
26.5
60
20
39
47.5
130
105
50
53
35
89
118
146
38
150
2012
50
14
23.5
33.5
85
28
46
56
150
115
62
60
40
107
134
160
42
180
2517
60
16
34.5
46.5
80
28
58
70
180
125
77
73
49
142
165
189
48
230
3571
75
25
39.5
52.5
100
48
77
90
225
155
99
85.5
59.5
165
202
240
55
280
3525
100
35
51.0 
66.5
115
60
90
105.5
175
206
119
105.5
74.5
208
247
286
67
Related Products
Company Profile
FAQ
Q: Can you make the coupling with customization?
A: Yes, we can customize per your request.
Q: Do you provide samples?
A: Yes. The sample is available for testing.
Q: What is your MOQ?
A: It is 10pcs for the beginning of our business.
Q: What's your lead time?
A: Standard products need 5-30days, a bit longer for customized products.
Q: Do you provide technical support?
A: Yes. Our company has a design and development team, and we can provide technical support if you
need.
Q: How to ship to us?
A: It is available by air, sea, or by train.
Q: How to pay the money?
A: T/T and L/C are preferred, with different currencies, including USD, EUR, RMB, etc.
Q: How can I know if the product is suitable for me?
A: >1ST confirm drawing and specification >2nd test sample >3rd start mass production.
Q: Can I come to your company to visit?
A: Yes, you are welcome to visit us at any time.
Q: How shall we contact you?
A: You can send an inquiry directly, and we will respond within 24 hours.
Shipping Cost:

Estimated freight per unit.





To be negotiated
| | |
| --- | --- |
| Standard Or Nonstandard: | Standard |
| Shaft Hole: | Custom |
| Torque: | <10N.M |
Samples:

US$ 50/Piece

1 Piece(Min.Order)

|

Order Sample

Yellow
Customization:

Available

|

Customized Request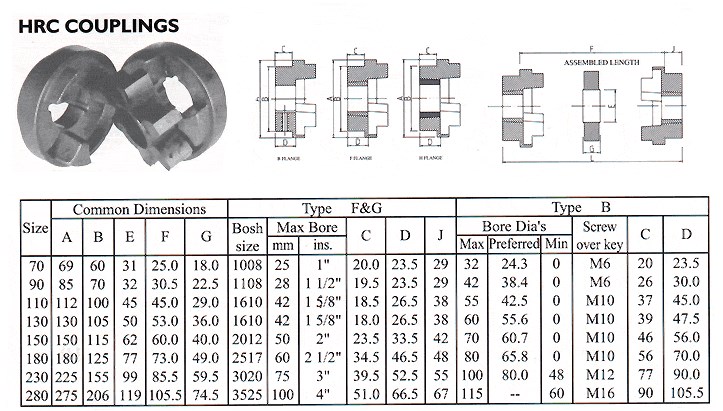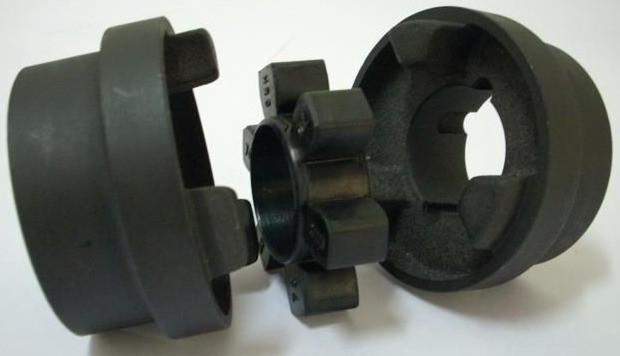 How Does an HRC Coupling Protect Connected Equipment from Shock Loads and Vibrations?
HRC (Highly Resilient Coupling) couplings are designed to protect connected equipment from shock loads and vibrations through their unique construction and material properties:
Flexible Elastomeric Element: The key component of an HRC coupling is the flexible elastomeric element positioned between the two metal hubs. This elastomer acts as a mechanical buffer, capable of absorbing and dissipating shock loads and vibrations that may occur during operation.
Damping of Vibrations: The elastomeric element's flexibility allows it to dampen torsional vibrations and dampen the impact of sudden shock loads. This helps in reducing resonance effects and minimizing the transmission of vibrations to the connected equipment.
High Resilience: HRC couplings are made from elastomers with high resilience, meaning they can deform under load and return to their original shape after the load is removed. This property enables them to absorb and dissipate energy, protecting the system from sudden shocks.
Misalignment Compensation: In addition to shock and vibration absorption, HRC couplings can also compensate for small amounts of misalignment between shafts. This capability further enhances the protection of connected equipment by reducing the stress caused by misalignment.
When equipment experiences shock loads or vibrations, the elastomeric element flexes and compresses, acting as a shock absorber. This prevents the sudden transmission of high impact forces to the connected machinery, reducing the risk of damage and premature wear.
Moreover, by damping vibrations, HRC couplings improve the overall stability and smoothness of the power transmission system. This contributes to the longevity of connected equipment and reduces the likelihood of mechanical failures or downtime.
Overall, HRC couplings play a vital role in safeguarding connected equipment from shock loads and vibrations, promoting the reliability and performance of mechanical systems in various industrial applications.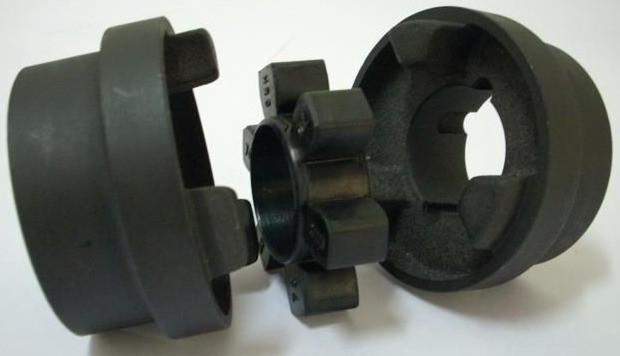 Can HRC Couplings Be Used in Applications with Varying Operating Temperatures?
Yes, HRC couplings can be used in applications with varying operating temperatures. The choice of materials used in the manufacturing of HRC couplings allows them to withstand a wide range of temperatures, making them suitable for diverse industrial environments. Here's how HRC couplings handle varying operating temperatures:
1. Material Selection: HRC couplings are typically constructed using high-quality materials such as cast iron, steel, and a flexible rubber element. These materials are selected for their excellent thermal properties and ability to maintain their structural integrity across a broad temperature range.
2. Temperature Resistance: The rubber element in the HRC coupling is designed to resist temperature extremes. It remains flexible and resilient even in high or low-temperature conditions. This flexibility is essential for the coupling's ability to accommodate misalignment and dampen vibrations effectively.
3. Thermal Expansion: When machinery operates at higher temperatures, components can undergo thermal expansion. HRC couplings can handle the slight misalignment caused by thermal expansion, thanks to their flexible rubber element. This feature prevents additional stress on the connected shafts and bearings, reducing the risk of premature failures.
4. Lubrication-Free: Unlike some other types of couplings that require lubrication for smooth operation, HRC couplings are designed to be lubrication-free. This is advantageous in applications with varying temperatures because lubricants may experience changes in viscosity and performance at extreme temperatures. The absence of lubrication simplifies maintenance and ensures consistent coupling performance regardless of temperature fluctuations.
5. Application Versatility: Due to their temperature resistance and ability to handle misalignment, HRC couplings find applications in a wide range of industries and equipment, including pumps, compressors, conveyors, and various types of machinery that operate in environments with varying temperatures.
In summary, HRC couplings are well-suited for applications with varying operating temperatures. Their robust construction, temperature-resistant materials, and ability to handle misalignment make them a reliable and versatile choice for power transmission in different industrial settings, regardless of temperature fluctuations.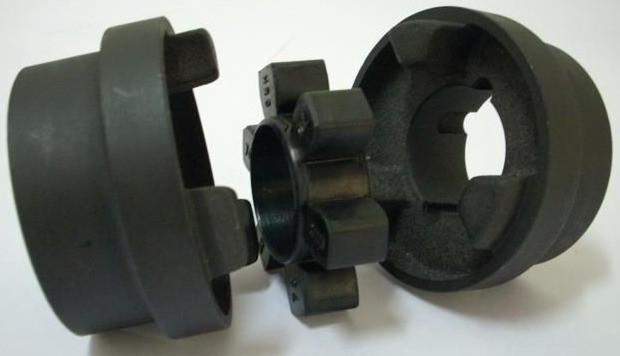 Materials Used in Manufacturing HRC Couplings
HRC couplings are typically made from a combination of different materials to provide the necessary properties for efficient power transmission and durability. The common materials used in manufacturing HRC couplings include:
Cast Iron: Cast iron is a widely used material for HRC couplings due to its excellent strength, durability, and resistance to wear and deformation. It is suitable for various industrial applications and can handle substantial torque and misalignment.
Steel: Steel is another popular choice for HRC coupling construction. It offers high tensile strength, good fatigue resistance, and the ability to handle high-speed applications. Steel HRC couplings are suitable for demanding environments and heavy-duty machinery.
Stainless Steel: Stainless steel HRC couplings are ideal for applications where corrosion resistance is essential. They are commonly used in industries such as food processing, pharmaceuticals, and marine environments.
Aluminum: Aluminum HRC couplings are lightweight and have excellent corrosion resistance. They are suitable for low to medium torque applications where weight reduction is a concern.
Bronze: Bronze is used in specialized HRC coupling designs, particularly for applications requiring low friction and high wear resistance. It is commonly used in marine and heavy machinery applications.
Polyurethane: Polyurethane is used for the flexible elements of HRC couplings. It offers good shock absorption and vibration damping properties, contributing to the coupling's ability to protect connected equipment from shocks and vibrations.
Other Composite Materials: Some HRC couplings may feature composite materials that combine the benefits of different materials, such as rubber compounds with metal reinforcement, to provide specific performance characteristics.
The material selection for HRC couplings depends on the application requirements, including torque, speed, environmental conditions, and industry standards. Manufacturers often provide a range of material options to suit various applications and ensure reliable and efficient power transmission.



editor by CX 2023-08-11