Product Description
Product Description
Manufacturer of all kinds of coupling, Jaw coupling included
Standard or non-standard
Achieving ISO9001: 2000 and ISO14001: 200
Manufacturer of all kinds of coupling, Jaw coupling included
Standard or non-standard
Achieving ISO9001: 2000 and ISO14001: 2004, so our quality can guarantee.
Detailed Photos
Product Parameters
Packaging & Shipping
Our Advantages
WHY CHOOSE US
Comprehensive Product Portfolio We produce and supply a wide range of power transmission
products including drive chains, leaf chains, conveyor chains, agricultural chains, sprockets, and
couplings. This one-store-for-all shopping experience will significantly reduce your searching costs while
guarantee youfind what you want at 1 click.

Value Choice Products Our products are the best combination of quality and price, and you get what
you want within your budgets

Seasoned Sales Associates and Engineers We have 15 seasoned sales associates and 5 engineers;
on our team at your disposal any time when you need a helping hand. They are well trained with industry
know-now and will always respond to your requests within 24 hours.

100% Customer Retention Rate Our regular customers from overseas come back not just for our
premium quality products, but for the superior services that we've provided over the years.
 
FAQ
Q1: What's your average lead time?
A: It varies. Our regular end-to-end lead time is 1-2 months.. We also provide express shipments for rush orders. For details,please consult our sales associate.

Q2: Is your price better than your competitors given the same quality?
A: Definitely YES. We provide the most competitive price in the power transmission industry. If price disparity exists, we'll be more than happy to do a price match.
Q3: Can you make chains according to my CAD drawings?
A: Yes. Besides the regular standard chains, we produce non-standard and custom-design products to meet the specific technical requirements. In reality, a sizable portion of our production capacity is assigned to make non-standard products.

Q4: Can we inspect the goods before shipment?
A: Yes. You or your representative or any third-party inspection party assigned is allowed access to our facility and do the inspection.

Q5: What kind of payment method is acceptable for your mill?
A: We're flexible. We take T/T, L/C, or any other online payment methods so long as it's applicable for you.

Q6: What if I have any other questions?
A: Whenever in doubt, you're always encouraged to consult our sales associate any time – They will help you to your satisfaction.
 
Shipping Cost:

Estimated freight per unit.





To be negotiated
| | |
| --- | --- |
| After-sales Service: | Yes |
| Warranty: | 1 Year |
| Connection: | Flange |
Samples:

US$ 10/Piece

1 Piece(Min.Order)

|

Order Sample
Customization:

Available

|

Customized Request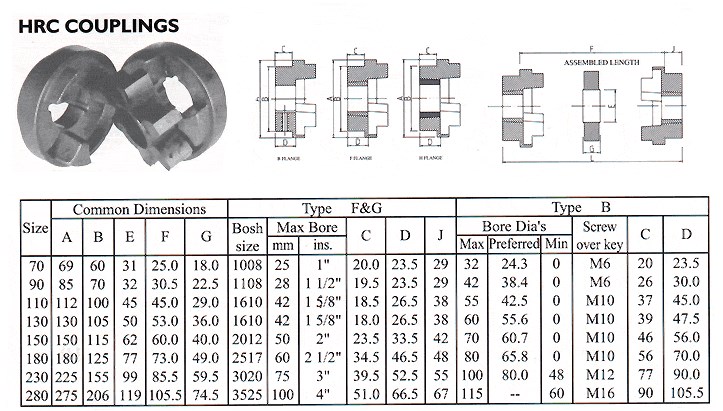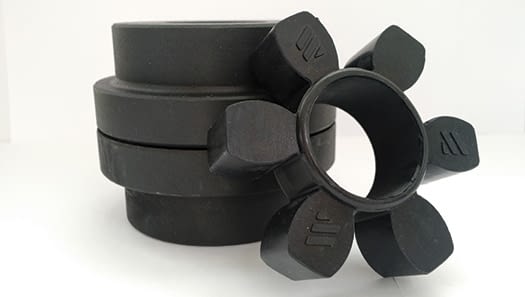 Are There Any Safety Considerations When Using HRC Couplings in Rotating Machinery?
When using HRC (Highly Resilient Coupling) couplings in rotating machinery, several safety considerations should be taken into account to ensure the proper and safe functioning of the coupling and the connected equipment:
Proper Installation: It is crucial to follow the manufacturer's guidelines and recommendations for the correct installation of the HRC coupling. Ensure that the coupling is mounted securely on the shafts and that all fasteners are tightened to the specified torque values.
Alignment: Adequate shaft alignment is essential for the smooth operation of the HRC coupling. Misalignment can lead to increased stress on the coupling and its elastomeric element, reducing its service life and possibly causing premature failure.
Torque Capacity: Before selecting an HRC coupling, verify that it has the appropriate torque capacity for the specific application. Using an undersized coupling can result in overloading, leading to coupling failure and potential damage to connected machinery.
Operating Conditions: Consider the environmental conditions and operating parameters of the machinery when choosing an HRC coupling. Factors such as temperature, humidity, and exposure to chemicals can affect the coupling's performance and longevity.
Regular Inspection: Implement a regular inspection and maintenance schedule for the HRC coupling and the entire power transmission system. Check for signs of wear, corrosion, or any other issues that may require attention. Replace worn or damaged components promptly.
Emergency Stop: Ensure that the rotating machinery is equipped with a proper emergency stop mechanism to quickly shut down operations in case of unexpected events or coupling failure.
Overload Protection: Consider adding overload protection devices to the system to prevent excessive torque or shock loads from reaching the coupling and the connected equipment.
By adhering to these safety considerations and best practices, the risk of accidents, equipment damage, and downtime can be minimized, ensuring a safe and reliable operation of rotating machinery with HRC couplings.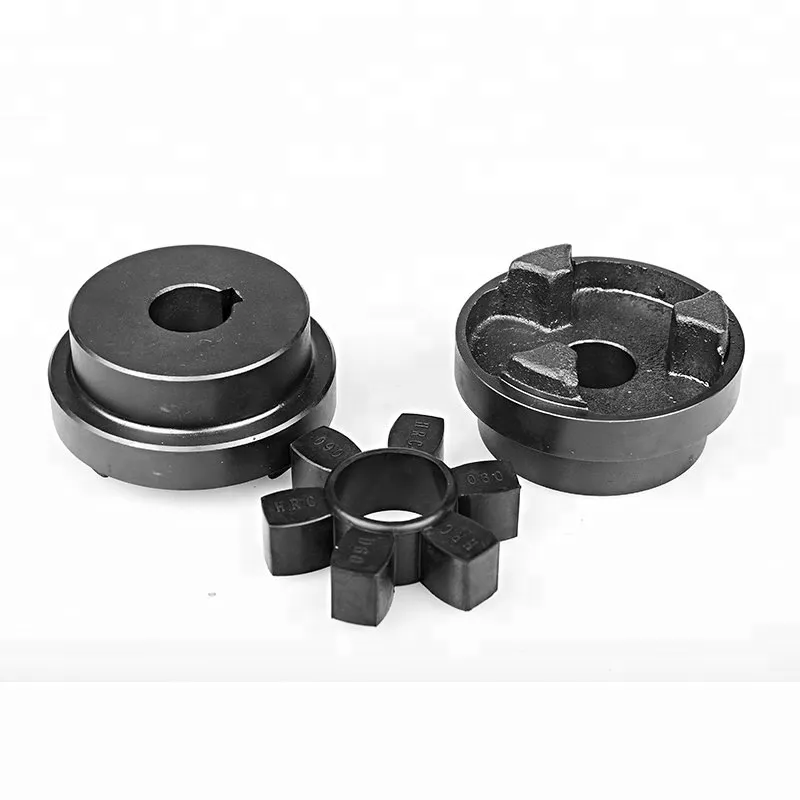 How Does an HRC Coupling Handle Angular, Parallel, and Axial Misalignment?
An HRC (Highly Resilient Coupling) is designed to handle various types of misalignment, including angular, parallel, and axial misalignment. The coupling's unique construction allows it to provide flexibility while transmitting torque between two shafts. Here's how it handles each type of misalignment:
1. Angular Misalignment: Angular misalignment occurs when the axes of the connected shafts are not perfectly aligned. The HRC coupling can accommodate this misalignment due to its flexible element, typically made of synthetic rubber or polyurethane. The rubber element can bend and flex, allowing the coupling to compensate for slight angular deviations between the shafts. This helps to reduce stress on the connected equipment and the coupling itself.
2. Parallel Misalignment: Parallel misalignment happens when the shafts are not perfectly aligned side by side. The HRC coupling's rubber element can also tolerate small amounts of parallel misalignment. As the shafts move slightly in parallel, the rubber element flexes to maintain the torque transmission between the shafts. However, excessive parallel misalignment should be avoided to prevent premature wear on the coupling.
3. Axial Misalignment: Axial misalignment occurs when the ends of the shafts move closer together or farther apart. The HRC coupling can accommodate limited axial misalignment, thanks to the elasticity of the rubber element. As the shafts move in the axial direction, the rubber element compresses or expands accordingly, ensuring continuous torque transmission.
It's essential to note that while HRC couplings are designed to handle misalignment, they have limits. Excessive misalignment can cause premature wear and failure of the coupling. Therefore, it's crucial to install and align the HRC coupling properly within the recommended tolerances to ensure optimal performance and longevity of the coupling and connected equipment.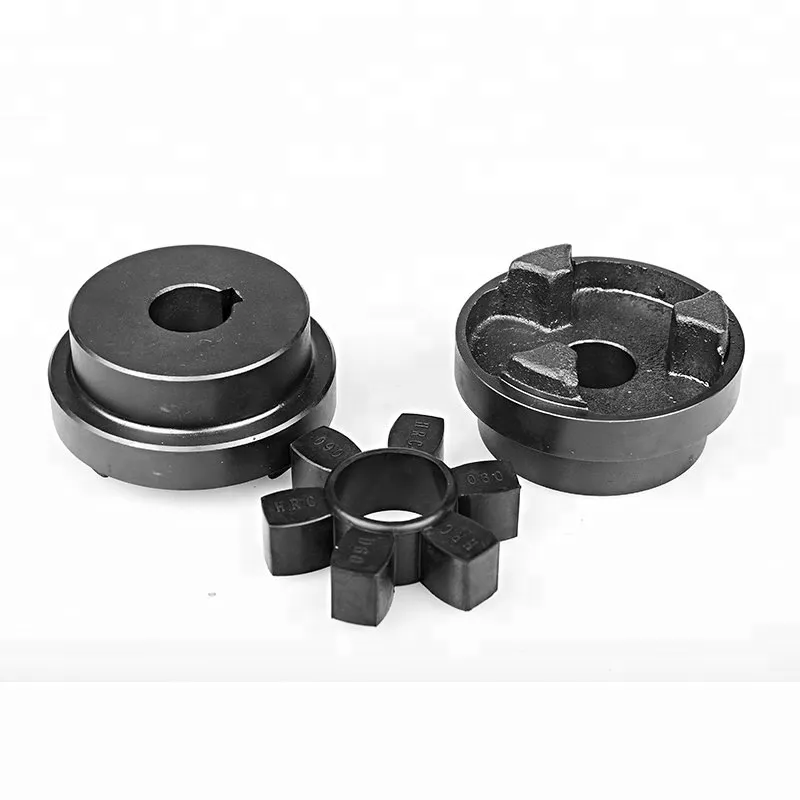 Explanation of Different Types of HRC Coupling Designs
1. HRC Standard Design: The standard or classic HRC coupling design consists of two cast iron hubs with a spider made of an elastomeric material, usually rubber. The hubs have teeth on the inner surface that mesh with the spider, providing torque transmission and flexibility. This design is commonly used in various industrial applications due to its simplicity and cost-effectiveness.
2. HRC Spacer Design: The HRC spacer coupling design is similar to the standard HRC design, but it includes a spacer between the two hubs. The spacer allows for more axial misalignment compensation and can accommodate longer distances between shafts. This design is suitable for applications where additional spacing between the shafts is necessary.
3. HRC Flywheel Design: The HRC flywheel coupling design is specifically used in applications where the coupling is mounted on a flywheel. The design incorporates a flywheel mounting hub on one side and a standard HRC hub on the other side. This allows the coupling to be easily connected to a flywheel for various engine-driven machinery.
4. HRC Taper Lock Design: The HRC taper lock coupling design includes taper lock bushings that enable easy installation and removal of the coupling from the shaft. The hubs have a tapered bore, and the taper lock bushings are inserted into the bore, providing a secure and precise connection to the shaft. This design is commonly used in applications that require frequent coupling removal and reassembly.
5. HRC Brake Drum Design: The HRC brake drum coupling design is used in applications where a brake is required. The design incorporates a brake drum on one of the hubs, allowing the coupling to serve both as a torque transmitting coupling and a brake drum for braking purposes. This design is commonly used in industrial machinery where controlled braking is necessary.
6. HRC Non-Spacer Design: The HRC non-spacer coupling design is similar to the standard HRC design but does not include a spacer. This design is suitable for applications where the shafts are relatively close together, and a spacer is not required for additional misalignment compensation.
7. HRC Stainless Steel Design: The HRC stainless steel coupling design is used in applications where corrosion resistance is essential. The hubs and spider are made of stainless steel, providing better resistance to rust and corrosion. This design is commonly used in industries such as food processing, marine, and pharmaceuticals.
8. HRC Pilot Bore Design: The HRC pilot bore coupling design is supplied with plain bore hubs, allowing the end-users to machine the bore to the required size. This design is beneficial when the shaft sizes are not standard or need to be customized for a specific application.
Overall, these different HRC coupling designs offer flexibility and versatility to suit various power transmission requirements across different industries.



editor by CX 2023-09-30