Product Description
| | |
| --- | --- |
| Product Name | hrc coupling |
| Material | cast iron |
| Type | HRC 70, HRC 90, HRC 110, HRC 130, HRC 150, HRC 180, HRC 230, HRC 280.  |
| Structure  | 2 shaft ( 1 / 1a / 1b )+ spider |
| Bore size  | 0~40mm |
| Weight  | About 3.3-10 kg / pcs |
| packing | plastic bag +paper box +wooden box +wooden pallet |
1. Engineering: machine tools, foundry equipments, conveyors, compressors, painting systems, etc.
2. Pharmaceuticals& Food Processing: pulp mill blowers, conveyor in warehouse, agitators, grain, boiler, bakery machine, labeling machine, robots, etc.
3. Agriculture Industries: cultivator, rice winnower tractor, harvester, rice planter, farm equipment, etc.
4. Texitile Mills: looms, spinning, wrappers, high-speed auto looms, processing machine, twister, carding machine, ruler calendar machine, high speed winder, etc.
5. Printing Machinery: newspaper press, rotary machine, screen printer machine, linotype machine offset printer, etc.
6. Paper Industries: chipper roll grinder, cut off saw, edgers, flotation cell and chips saws, etc.
7. Building Construction Machinery: buffers, elevator floor polisher mixing machine, vibrator, hoists, crusher, etc.
8. Office Equipments: typewriter, plotters, camera, money drive, money sorting machine, data storage equipment, etc.
9. Glass and Plastic Industries: conveyor, carton sealers, grinders, creeper paper manufacturing machine, lintec backing, etc.
10. Home Appliances: vacuum cleaner, laundry machine, icecream machine, sewing machine, kitchen equipments, etc.
| | |
| --- | --- |
| Standard Or Nonstandard: | Standard |
| Shaft Hole: | 10-32 |
| Torque: | >80N.M |
| Bore Diameter: | 9mm |
| Speed: | 4000r/M |
| Structure: | Rigid |
Samples:

US$ 1/Piece

1 Piece(Min.Order)

|
Request Sample
Customization:

Available

|

Customized Request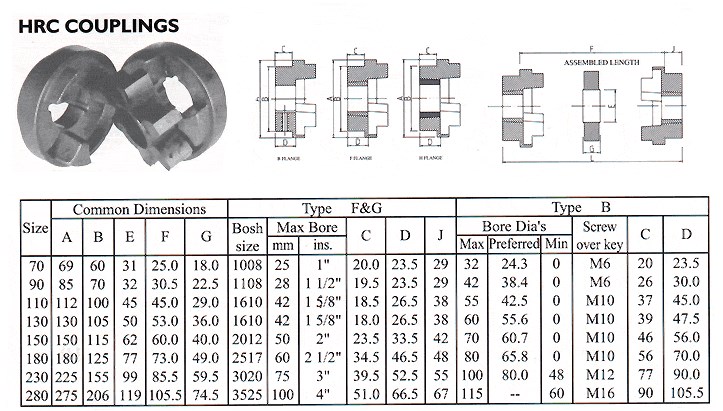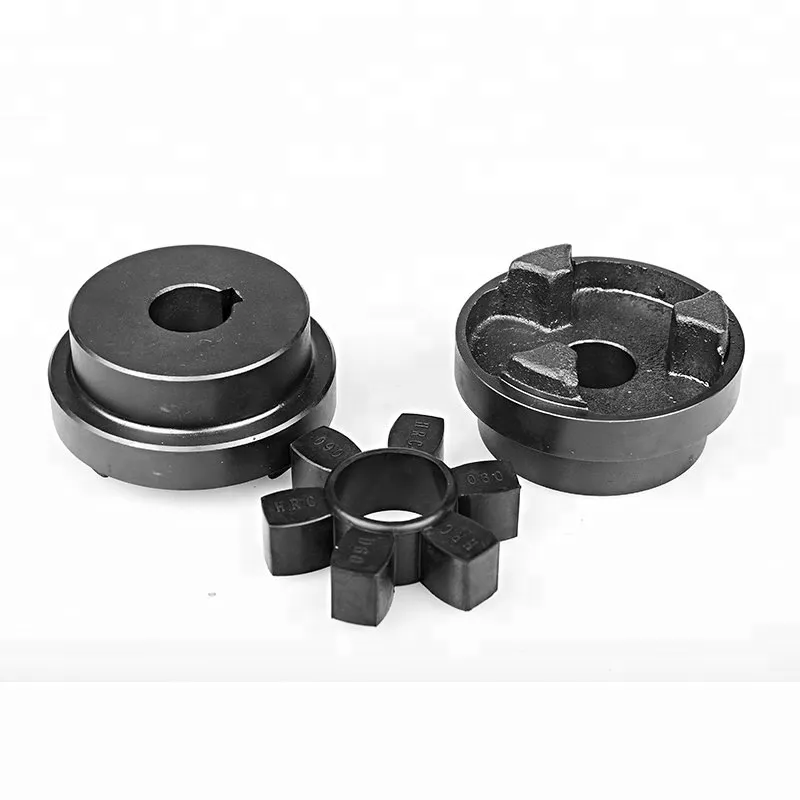 What are the Maintenance Requirements for HRC Couplings?
HRC (Highly Resilient Coupling) couplings are known for their relatively low maintenance requirements, making them popular in various industrial applications. However, like any mechanical component, they still require some attention to ensure optimal performance and longevity. Here are the typical maintenance requirements for HRC couplings:
Regular Inspection: Perform visual inspections of the coupling regularly to check for signs of wear, damage, or misalignment. Look for any unusual vibrations, noise, or overheating during operation.
Lubrication: Some HRC couplings have elastomeric elements that require periodic lubrication to maintain their flexibility and resilience. Check the manufacturer's recommendations for the proper lubrication schedule and type of lubricant to use.
Torque Monitoring: Ensure that the coupling is properly torqued and recheck the torque periodically, especially after installation or maintenance activities.
Alignment Checks: Misalignment can lead to premature wear and reduced coupling life. Regularly check the alignment of the connected shafts and correct any misalignment if necessary.
Environmental Considerations: HRC couplings can be affected by environmental factors such as temperature, humidity, and exposure to chemicals. Ensure that the coupling is suitable for the specific environmental conditions of the application.
Replace Worn Parts: Over time, the elastomeric elements of the HRC coupling may wear out. When signs of wear, cracking, or damage are observed, replace the coupling elements promptly to prevent further issues.
Professional Inspection: Periodic inspections by maintenance professionals or coupling experts can help identify any potential problems and address them proactively.
It's essential to follow the manufacturer's guidelines and recommendations for maintenance and inspection intervals specific to the HRC coupling model being used. Proper maintenance can extend the life of the coupling, reduce downtime, and ensure the reliable operation of the machinery in which it is installed.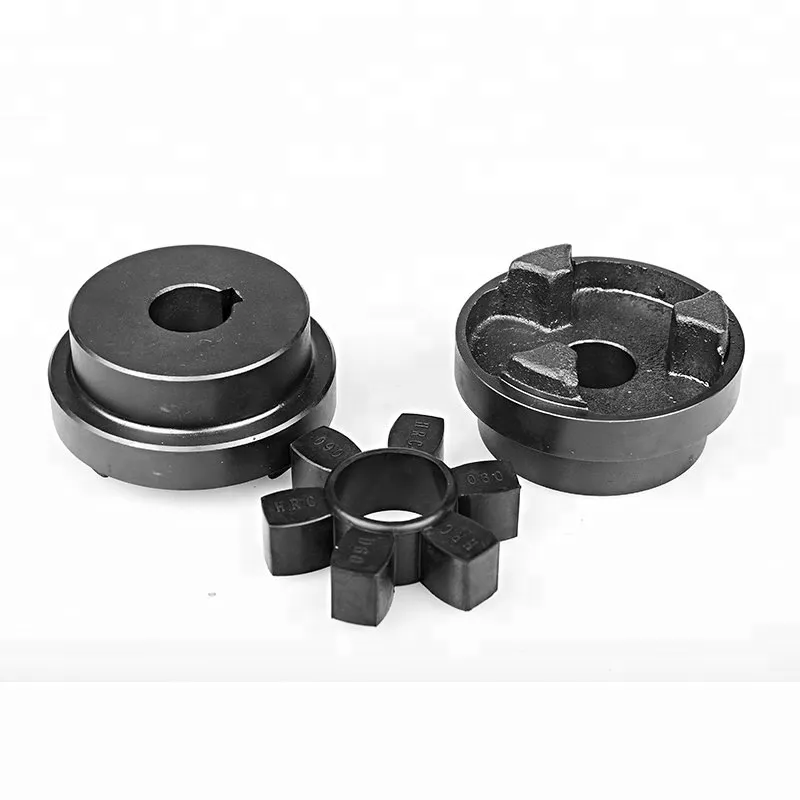 How Does an HRC Coupling Handle Angular, Parallel, and Axial Misalignment?
An HRC (Highly Resilient Coupling) is designed to handle various types of misalignment, including angular, parallel, and axial misalignment. The coupling's unique construction allows it to provide flexibility while transmitting torque between two shafts. Here's how it handles each type of misalignment:
1. Angular Misalignment: Angular misalignment occurs when the axes of the connected shafts are not perfectly aligned. The HRC coupling can accommodate this misalignment due to its flexible element, typically made of synthetic rubber or polyurethane. The rubber element can bend and flex, allowing the coupling to compensate for slight angular deviations between the shafts. This helps to reduce stress on the connected equipment and the coupling itself.
2. Parallel Misalignment: Parallel misalignment happens when the shafts are not perfectly aligned side by side. The HRC coupling's rubber element can also tolerate small amounts of parallel misalignment. As the shafts move slightly in parallel, the rubber element flexes to maintain the torque transmission between the shafts. However, excessive parallel misalignment should be avoided to prevent premature wear on the coupling.
3. Axial Misalignment: Axial misalignment occurs when the ends of the shafts move closer together or farther apart. The HRC coupling can accommodate limited axial misalignment, thanks to the elasticity of the rubber element. As the shafts move in the axial direction, the rubber element compresses or expands accordingly, ensuring continuous torque transmission.
It's essential to note that while HRC couplings are designed to handle misalignment, they have limits. Excessive misalignment can cause premature wear and failure of the coupling. Therefore, it's crucial to install and align the HRC coupling properly within the recommended tolerances to ensure optimal performance and longevity of the coupling and connected equipment.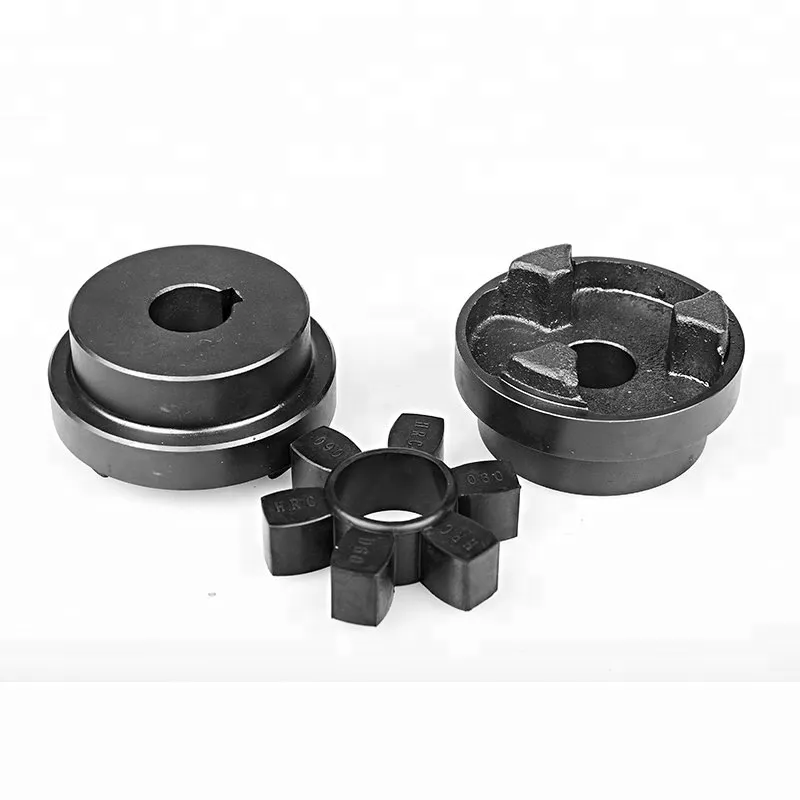 Explanation of Different Types of HRC Coupling Designs
1. HRC Standard Design: The standard or classic HRC coupling design consists of two cast iron hubs with a spider made of an elastomeric material, usually rubber. The hubs have teeth on the inner surface that mesh with the spider, providing torque transmission and flexibility. This design is commonly used in various industrial applications due to its simplicity and cost-effectiveness.
2. HRC Spacer Design: The HRC spacer coupling design is similar to the standard HRC design, but it includes a spacer between the two hubs. The spacer allows for more axial misalignment compensation and can accommodate longer distances between shafts. This design is suitable for applications where additional spacing between the shafts is necessary.
3. HRC Flywheel Design: The HRC flywheel coupling design is specifically used in applications where the coupling is mounted on a flywheel. The design incorporates a flywheel mounting hub on one side and a standard HRC hub on the other side. This allows the coupling to be easily connected to a flywheel for various engine-driven machinery.
4. HRC Taper Lock Design: The HRC taper lock coupling design includes taper lock bushings that enable easy installation and removal of the coupling from the shaft. The hubs have a tapered bore, and the taper lock bushings are inserted into the bore, providing a secure and precise connection to the shaft. This design is commonly used in applications that require frequent coupling removal and reassembly.
5. HRC Brake Drum Design: The HRC brake drum coupling design is used in applications where a brake is required. The design incorporates a brake drum on one of the hubs, allowing the coupling to serve both as a torque transmitting coupling and a brake drum for braking purposes. This design is commonly used in industrial machinery where controlled braking is necessary.
6. HRC Non-Spacer Design: The HRC non-spacer coupling design is similar to the standard HRC design but does not include a spacer. This design is suitable for applications where the shafts are relatively close together, and a spacer is not required for additional misalignment compensation.
7. HRC Stainless Steel Design: The HRC stainless steel coupling design is used in applications where corrosion resistance is essential. The hubs and spider are made of stainless steel, providing better resistance to rust and corrosion. This design is commonly used in industries such as food processing, marine, and pharmaceuticals.
8. HRC Pilot Bore Design: The HRC pilot bore coupling design is supplied with plain bore hubs, allowing the end-users to machine the bore to the required size. This design is beneficial when the shaft sizes are not standard or need to be customized for a specific application.
Overall, these different HRC coupling designs offer flexibility and versatility to suit various power transmission requirements across different industries.



editor by CX 2023-09-04