Product Description
HRC Coupling : HRC70, HRC90, HRC110, HRC130, HRC150, HRC180, HRC230, HRC280
Cast iron material
Standard and non-standard coupling available
With high quality and competitive price
HRC Type B
Coupling Size
Max.Bore
Pilot Bore
Keyway screw size
Hub Width
Shoulder Width
70
32
8
M6
23.5
20
90
42
10
M6
30.5
26
110
55
10
M10
45.5
37
130
60
15
M10
47.5
39
150
70
20
M10
56.5
46
180
80
25
M10
70.5
58
230
100
25
M12
90.5
77
280
115
30
M16
105.5
90
HRC Type F&H
coupling Size
Taper Bush size
Max. Bore
C
D
 
 
mm
inch
mm
mm
70
1008
25
1″
23.5
20
90
1108
28
1 1/8″
23.5
19.5
110
1610
42
1 5/8″
26.5
18.5
130
1610
42
1 5/8″
26.5
18
150
2012
50
2″
33.5
23.5
180
2517
65
2 1/2″
46.5
34.5
230
3571
75
3″
52.5
39.5
280
3525
95
3 11/16″
66.5
51
| | |
| --- | --- |
| Standard Or Nonstandard: | Standard |
| Shaft Hole: | 10-32 |
| Torque: | 70-80N.M |
| Bore Diameter: | 14mm |
| Speed: | 4000r/M |
| Structure: | Rigid |
Samples:

US$ 2/Piece

1 Piece(Min.Order)

|
Request Sample
Customization:

Available

|

Customized Request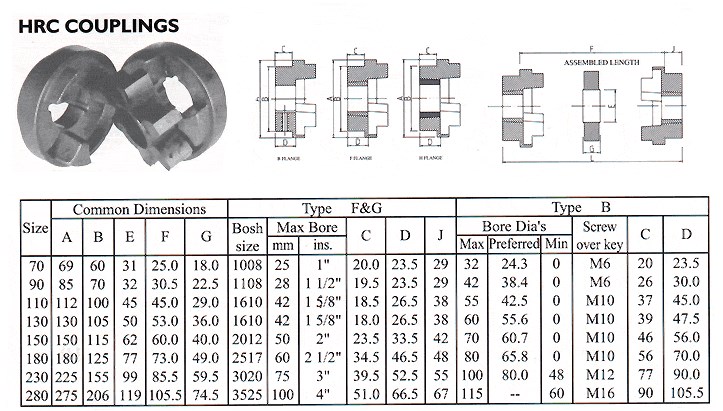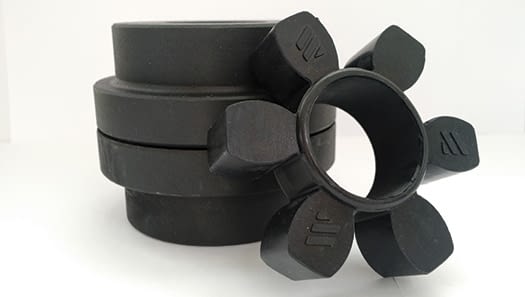 Are There Any Safety Considerations When Using HRC Couplings in Rotating Machinery?
When using HRC (Highly Resilient Coupling) couplings in rotating machinery, several safety considerations should be taken into account to ensure the proper and safe functioning of the coupling and the connected equipment:
Proper Installation: It is crucial to follow the manufacturer's guidelines and recommendations for the correct installation of the HRC coupling. Ensure that the coupling is mounted securely on the shafts and that all fasteners are tightened to the specified torque values.
Alignment: Adequate shaft alignment is essential for the smooth operation of the HRC coupling. Misalignment can lead to increased stress on the coupling and its elastomeric element, reducing its service life and possibly causing premature failure.
Torque Capacity: Before selecting an HRC coupling, verify that it has the appropriate torque capacity for the specific application. Using an undersized coupling can result in overloading, leading to coupling failure and potential damage to connected machinery.
Operating Conditions: Consider the environmental conditions and operating parameters of the machinery when choosing an HRC coupling. Factors such as temperature, humidity, and exposure to chemicals can affect the coupling's performance and longevity.
Regular Inspection: Implement a regular inspection and maintenance schedule for the HRC coupling and the entire power transmission system. Check for signs of wear, corrosion, or any other issues that may require attention. Replace worn or damaged components promptly.
Emergency Stop: Ensure that the rotating machinery is equipped with a proper emergency stop mechanism to quickly shut down operations in case of unexpected events or coupling failure.
Overload Protection: Consider adding overload protection devices to the system to prevent excessive torque or shock loads from reaching the coupling and the connected equipment.
By adhering to these safety considerations and best practices, the risk of accidents, equipment damage, and downtime can be minimized, ensuring a safe and reliable operation of rotating machinery with HRC couplings.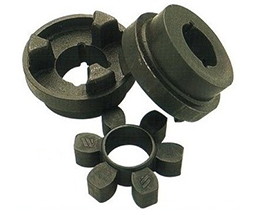 Can HRC Couplings Be Used in Both Horizontal and Vertical Shaft Arrangements?
Yes, HRC (Highly Resilient Coupling) couplings can be used in both horizontal and vertical shaft arrangements, making them versatile options for various applications.
Horizontal Shaft Arrangements: In horizontal shaft arrangements, the shafts are positioned parallel to the ground, and the rotational axis is horizontal. HRC couplings are commonly used in this configuration to transmit torque between two shafts with a certain level of misalignment. They are particularly effective in absorbing shock loads, dampening vibrations, and compensating for slight misalignments, which are often encountered in rotating machinery.
Vertical Shaft Arrangements: In vertical shaft arrangements, the shafts are positioned vertically, and the rotational axis is perpendicular to the ground. This configuration is commonly found in applications such as vertical pumps, vertical motors, and gearboxes. When using HRC couplings in vertical shaft arrangements, additional consideration is required to ensure that the coupling can support the weight of the connected equipment and accommodate any potential misalignment due to gravitational forces.
When selecting an HRC coupling for a vertical shaft arrangement, it is essential to choose a coupling with adequate torque capacity and stiffness to handle the weight of the equipment and any dynamic forces resulting from the vertical orientation.
In summary, HRC couplings are suitable for both horizontal and vertical shaft arrangements, providing reliable power transmission and compensating for misalignment and vibration in various mechanical systems.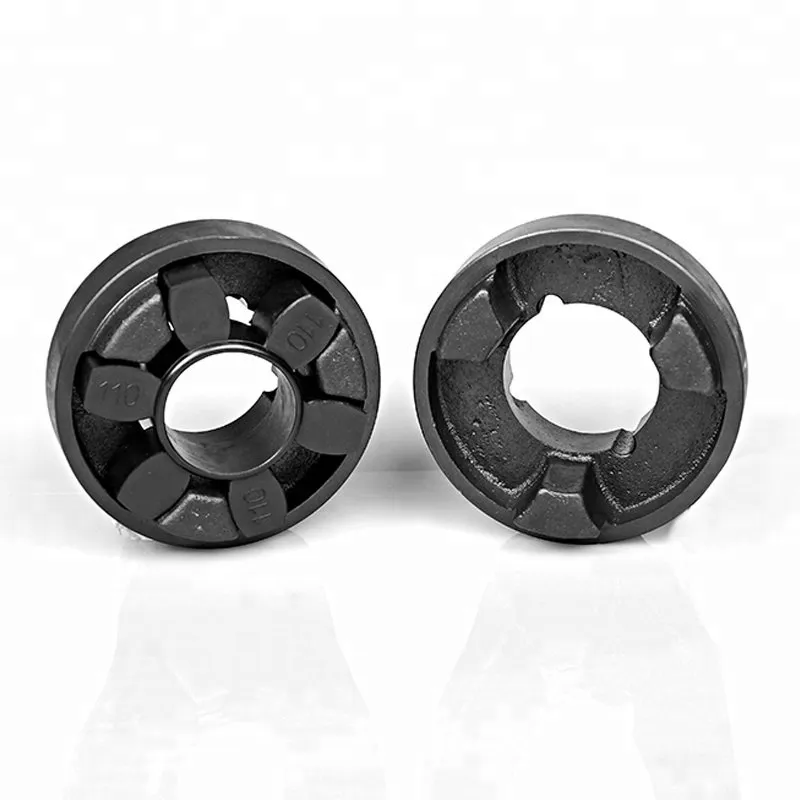 Selection of HRC Coupling for Specific Applications
Choosing the appropriate HRC coupling for a specific application requires careful consideration of several factors. Here are the steps to select the right HRC coupling:
Identify Application Requirements: Understand the specific requirements of your application, including torque and speed requirements, operating environment, shaft misalignment, and space limitations.
Calculate Torque and Speed: Determine the torque and speed values required for your application. This information will help you select an HRC coupling that can handle the expected load and rotational speed.
Consider Misalignment: Evaluate the type and magnitude of misalignment that the coupling needs to accommodate. HRC couplings can handle angular, parallel, and axial misalignment to varying degrees, so choose a design that meets your misalignment needs.
Check Space Constraints: Consider the available space for the coupling. If space is limited, you may need a compact HRC design or consider other coupling types that require less space.
Choose Hub Material: Select the hub material based on the application environment. Standard HRC hubs are usually made of cast iron, but stainless steel or other materials may be necessary for corrosive or specialized applications.
Explore Design Variations: Evaluate the various HRC coupling designs available, such as standard, spacer, flywheel, taper lock, brake drum, etc. Choose a design that best suits your application's needs.
Consider Environmental Factors: If your application operates in harsh conditions, consider factors such as temperature, moisture, chemicals, and potential contamination when choosing the HRC coupling.
Check Installation and Maintenance: Consider the ease of installation and maintenance requirements of the selected HRC coupling. Some designs, such as taper lock or pilot bore, offer easier installation and removal.
Consult Manufacturer Recommendations: Consult with the coupling manufacturer or a knowledgeable supplier to ensure you select the right HRC coupling for your specific application. They can provide valuable insights and recommendations based on their expertise.
By carefully evaluating these factors and selecting the appropriate HRC coupling, you can ensure optimal performance, reliability, and longevity for your mechanical system.



editor by CX 2023-08-31