Product Description
Product Description
We are the leading top Chinese coupling manufacturer, and are specializing in various high quality HRC coupling.
KASIN HRC Shaft Couplings
1. Material:the hub of the Couplings is Cast Iron,the Elastomer is Rubbe
2. OEM and ODM are available
3. High efficient in transmission
4. Finishing:The surface treatment is normally Phosphated and painting
5. High quality with competitive price
6. Different models suitable for your different demands
7. Stock for different bore size on both sides available.
8. Application in wide range of environment.
9. Quick and easy mounting and disassembly.
10. Resistant to oil and electrical insulation.
11. Identical clockwise and anticlockwise rotational characteristics.
12. Small dimension, low weight, high transmitted torque.
13. It has good performance on compensating the misalignment.
14.Feature of couplings:free of maintenance,simple structure and easy to install.
15.Application:Mainly used in the mining, metallurgical, cement, chemicals, construction, building materials, electric power, telecommunications, textiles, and transportation departments.
Techncial Date
Related Products 
                            Roller Chain Coupling                                               FCL Coupling                                                   Curved Jaw Coupling
Manufacturing
Applications:  
NM couplings are offered in the industry's largest variety of stock bore/keyway combinations. These couplings require no lubrication and provide highly reliable service for light, medium, and heavy duty electrical motor and internal combustion power transmission applications.  Applications include power transmission to industrial equipment such as pumps, gear boxes, compressors, blowers, mixers, and conveyors.
About Us
Kasin group was established in 1989, and its first product is casting carrier trolley for power & free conveyor system. In 1995, CZPT purchased HangZhou Guoping Forging Factory (LYGP), a marketer of forging bolts & nuts to power & free line market in china. With this acquisition, CZPT positioned itself as 1 of major parts suppliers of monorail and power & free conveyor system in china.
In 2/8822 0571 -57152031              Fax: 86~/8822 0571 -57152030
 
Http://kasinchain      
| | |
| --- | --- |
| Standard Or Nonstandard: | Standard |
| Shaft Hole: | 14-50 |
| Torque: | >80N.M |
| Bore Diameter: | 28-65 |
| Speed: | 100-3600 |
| Structure: | Flexible |
Samples:

US$ 18.3/Set

1 Set(Min.Order)

|
Request Sample
Customization:

Available

|

Customized Request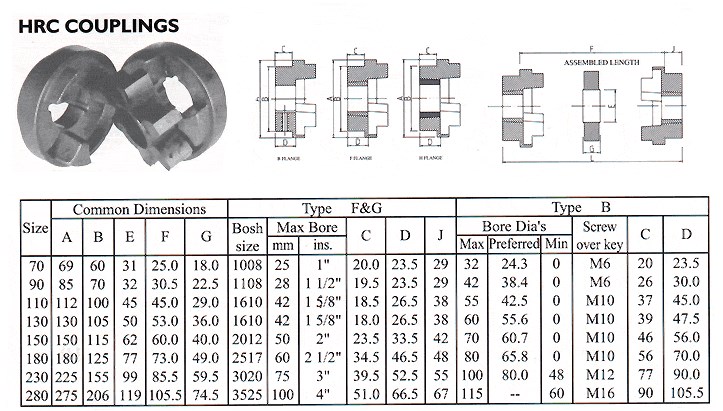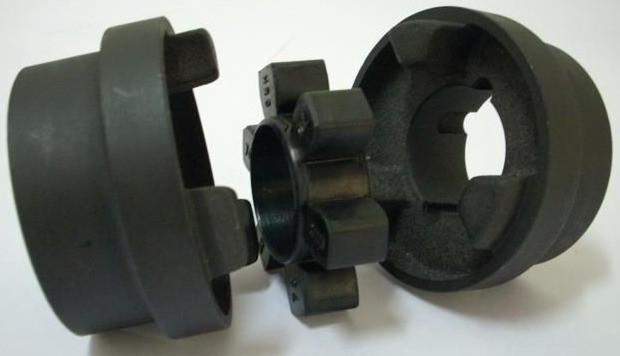 How Does an HRC Coupling Protect Connected Equipment from Shock Loads and Vibrations?
HRC (Highly Resilient Coupling) couplings are designed to protect connected equipment from shock loads and vibrations through their unique construction and material properties:
Flexible Elastomeric Element: The key component of an HRC coupling is the flexible elastomeric element positioned between the two metal hubs. This elastomer acts as a mechanical buffer, capable of absorbing and dissipating shock loads and vibrations that may occur during operation.
Damping of Vibrations: The elastomeric element's flexibility allows it to dampen torsional vibrations and dampen the impact of sudden shock loads. This helps in reducing resonance effects and minimizing the transmission of vibrations to the connected equipment.
High Resilience: HRC couplings are made from elastomers with high resilience, meaning they can deform under load and return to their original shape after the load is removed. This property enables them to absorb and dissipate energy, protecting the system from sudden shocks.
Misalignment Compensation: In addition to shock and vibration absorption, HRC couplings can also compensate for small amounts of misalignment between shafts. This capability further enhances the protection of connected equipment by reducing the stress caused by misalignment.
When equipment experiences shock loads or vibrations, the elastomeric element flexes and compresses, acting as a shock absorber. This prevents the sudden transmission of high impact forces to the connected machinery, reducing the risk of damage and premature wear.
Moreover, by damping vibrations, HRC couplings improve the overall stability and smoothness of the power transmission system. This contributes to the longevity of connected equipment and reduces the likelihood of mechanical failures or downtime.
Overall, HRC couplings play a vital role in safeguarding connected equipment from shock loads and vibrations, promoting the reliability and performance of mechanical systems in various industrial applications.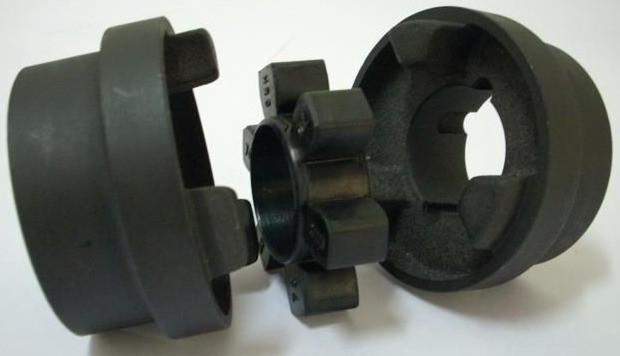 Can HRC Couplings Be Used in Applications with Varying Operating Temperatures?
Yes, HRC couplings can be used in applications with varying operating temperatures. The choice of materials used in the manufacturing of HRC couplings allows them to withstand a wide range of temperatures, making them suitable for diverse industrial environments. Here's how HRC couplings handle varying operating temperatures:
1. Material Selection: HRC couplings are typically constructed using high-quality materials such as cast iron, steel, and a flexible rubber element. These materials are selected for their excellent thermal properties and ability to maintain their structural integrity across a broad temperature range.
2. Temperature Resistance: The rubber element in the HRC coupling is designed to resist temperature extremes. It remains flexible and resilient even in high or low-temperature conditions. This flexibility is essential for the coupling's ability to accommodate misalignment and dampen vibrations effectively.
3. Thermal Expansion: When machinery operates at higher temperatures, components can undergo thermal expansion. HRC couplings can handle the slight misalignment caused by thermal expansion, thanks to their flexible rubber element. This feature prevents additional stress on the connected shafts and bearings, reducing the risk of premature failures.
4. Lubrication-Free: Unlike some other types of couplings that require lubrication for smooth operation, HRC couplings are designed to be lubrication-free. This is advantageous in applications with varying temperatures because lubricants may experience changes in viscosity and performance at extreme temperatures. The absence of lubrication simplifies maintenance and ensures consistent coupling performance regardless of temperature fluctuations.
5. Application Versatility: Due to their temperature resistance and ability to handle misalignment, HRC couplings find applications in a wide range of industries and equipment, including pumps, compressors, conveyors, and various types of machinery that operate in environments with varying temperatures.
In summary, HRC couplings are well-suited for applications with varying operating temperatures. Their robust construction, temperature-resistant materials, and ability to handle misalignment make them a reliable and versatile choice for power transmission in different industrial settings, regardless of temperature fluctuations.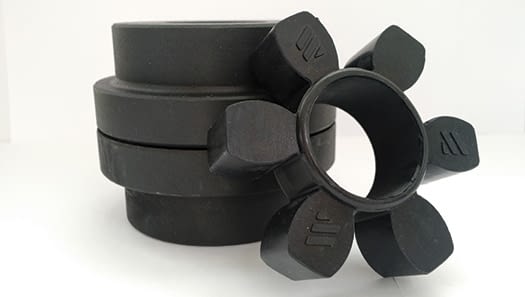 Limitations and Disadvantages of Using HRC Couplings
HRC couplings offer numerous advantages for power transmission in various mechanical systems, but they also have some limitations and disadvantages to consider:
Misalignment Limitation: While HRC couplings can handle a degree of misalignment, they are not as flexible as some other coupling types, such as flexible or elastomeric couplings. Excessive misalignment beyond their specified limits can lead to premature wear and failure.
High Shock Loads: While HRC couplings can handle moderate shock loads, they may not be suitable for applications with very high shock loads. In such cases, specialized couplings like gear or disc couplings may be more appropriate.
Temperature Limitations: HRC couplings have temperature limitations based on the material used in their construction. In high-temperature environments, other coupling types, such as metal disc couplings, may be more suitable.
Noise and Vibration: HRC couplings are not as effective in dampening noise and vibration as some other coupling designs, like flexible couplings with elastomeric elements. In applications where noise reduction is critical, additional measures may be required.
Regular Maintenance: While HRC couplings are generally low-maintenance, they still require periodic inspection and lubrication to ensure optimal performance and prevent unexpected failures.
Component Wear: The flexible elements of HRC couplings, such as the rubber inserts, may experience wear over time, especially in demanding applications. Regular inspection and replacement of these elements may be necessary.
Size and Weight: HRC couplings may be larger and heavier than some other coupling types, which can be a consideration in applications where space and weight are limited.
Cost: HRC couplings can be more cost-effective than some high-performance couplings, but they may not offer the same level of performance and precision in certain applications.
Despite these limitations, HRC couplings remain a popular choice in many industrial applications due to their reliability, simplicity, and cost-effectiveness. Engineers and designers should carefully assess their specific application requirements and consider these factors when selecting the most suitable coupling type for their system.



editor by CX 2023-08-18