Product Description
Product Description
Coupling:
1. Jaw coupling/ HRC coupling / KC coupling / FL coupling
2. Flange cast iron, Insert Bubber
3. Taper bore universal series
4. Keyway dimensions conform to DIN6885, GB1095-1979 standards.
1 Good quality with competitive prices.
2 For Free Samples
3 Prompt delivery
4 International Approvals
Product Attribute
| | |
| --- | --- |
| Warranty | 1 Year |
| Connection | Female |
| Structure | Control |
| Flexible or Rigid | Rigid |
| Material | Carbon Steel |
| Standard | Standard |
| port | ZheJiang |
| payment | L/C, T/T |
| package | Wooden Case |
Detailed Photos
Product Parameters
WHY CHOOSE US
Comprehensive Product Portfolio We produce and supply a wide range of power transmission
products including drive chains, leaf chains, conveyor chains, agricultural chains, sprockets, and
couplings. This one-store-for-all shopping experience will significantly reduce your searching costs while
guarantee youfind what you want at 1 click.
Value Choice Products Our products are the best combination of quality and price, and you get what
you want within your budgets
Seasoned Sales Associates and Engineers We have 15 seasoned sales associates and 5 engineers;
on our team at your disposal any time when you need a helping hand. They are well trained with industry
know-now and will always respond to your requests within 24 hours.
100% Customer Retention Rate Our regular customers from overseas come back not just for our
premium quality products, but for the superior services that we've provided over the years
FAQ
Q1: What's your average lead time?
A: It varies. Our regular end-to-end lead time is 1-2 months.. We also provide express shipments for rush orders. For details,please consult our sales associate.
Q2: Is your price better than your competitors given the same quality?
A: Definitely YES. We provide the most competitive price in the power transmission industry. If price disparity exists, we'll be more than happy to do a price match.
Q3: Can you make chains according to my CAD drawings?
A: Yes. Besides the regular standard chains, we produce non-standard and custom-design products to meet the specific technical requirements. In reality, a sizable portion of our production capacity is assigned to make non-standard products.
Q4: Can we inspect the goods before shipment?
A: Yes. You or your representative or any third-party inspection party assigned is allowed access to our facility and do the inspection.
Q5: What kind of payment method is acceptable for your mill?
A: We're flexible. We take T/T, L/C, or any other online payment methods so long as it's applicable for you.
Q6: What if I have any other questions?
A: Whenever in doubt, you're always encouraged to consult our sales associate any time – They will help you to your satisfaction.
| | |
| --- | --- |
| Material: | Low Carbon Steel |
| Surface Finishing: | Zinc Plated |
| Customized: | Non-Customized |
| Connection: | Flange |
| Transport Package: | Woddencase Suitable for Sea Shipping/Airfreight |
| Trademark: | TV |
Samples:

US$ 10/Piece

1 Piece(Min.Order)

|
Request Sample
Customization:

Available

|

Customized Request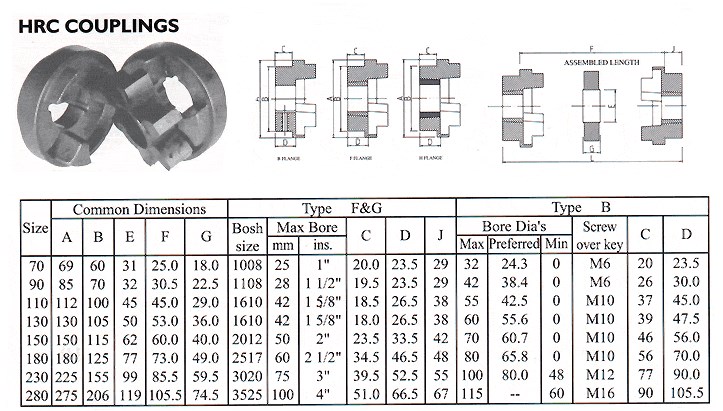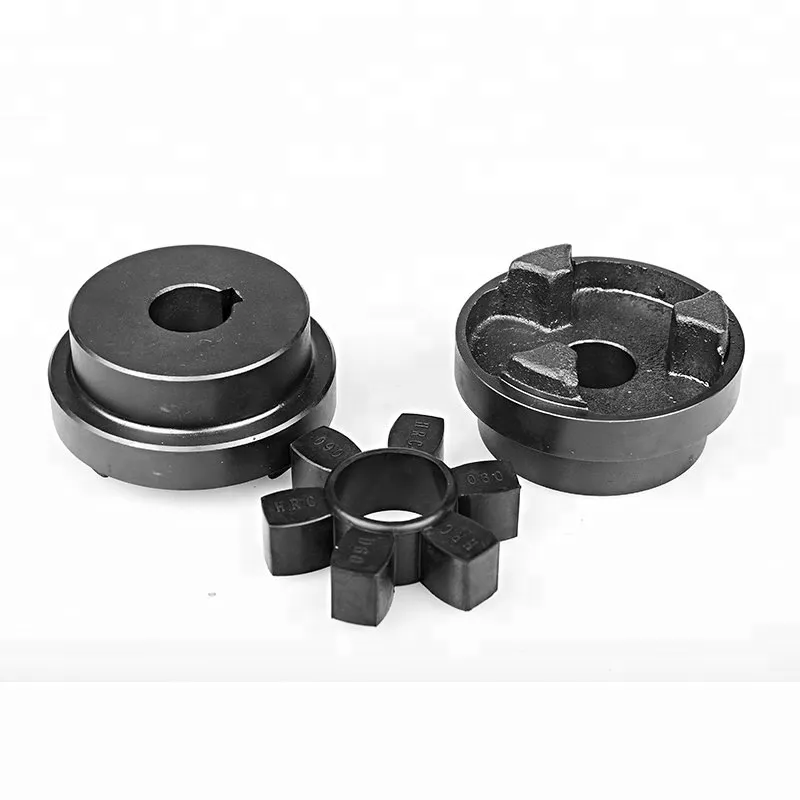 What are the Maintenance Requirements for HRC Couplings?
HRC (Highly Resilient Coupling) couplings are known for their relatively low maintenance requirements, making them popular in various industrial applications. However, like any mechanical component, they still require some attention to ensure optimal performance and longevity. Here are the typical maintenance requirements for HRC couplings:
Regular Inspection: Perform visual inspections of the coupling regularly to check for signs of wear, damage, or misalignment. Look for any unusual vibrations, noise, or overheating during operation.
Lubrication: Some HRC couplings have elastomeric elements that require periodic lubrication to maintain their flexibility and resilience. Check the manufacturer's recommendations for the proper lubrication schedule and type of lubricant to use.
Torque Monitoring: Ensure that the coupling is properly torqued and recheck the torque periodically, especially after installation or maintenance activities.
Alignment Checks: Misalignment can lead to premature wear and reduced coupling life. Regularly check the alignment of the connected shafts and correct any misalignment if necessary.
Environmental Considerations: HRC couplings can be affected by environmental factors such as temperature, humidity, and exposure to chemicals. Ensure that the coupling is suitable for the specific environmental conditions of the application.
Replace Worn Parts: Over time, the elastomeric elements of the HRC coupling may wear out. When signs of wear, cracking, or damage are observed, replace the coupling elements promptly to prevent further issues.
Professional Inspection: Periodic inspections by maintenance professionals or coupling experts can help identify any potential problems and address them proactively.
It's essential to follow the manufacturer's guidelines and recommendations for maintenance and inspection intervals specific to the HRC coupling model being used. Proper maintenance can extend the life of the coupling, reduce downtime, and ensure the reliable operation of the machinery in which it is installed.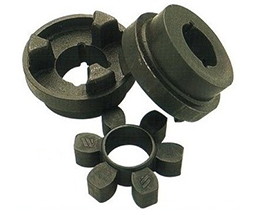 Impact of HRC Couplings on the Overall Reliability of Connected Equipment
HRC (Hytrel Rubber Compression) couplings play a crucial role in enhancing the overall reliability of connected equipment in mechanical power transmission systems. Here are some key ways in which HRC couplings contribute to improved reliability:
1. Shock Absorption: HRC couplings are designed with a flexible elastomeric element (made of Hytrel or similar material) that acts as a shock absorber. It helps dampen and absorb shocks and vibrations generated during the operation of rotating equipment. By reducing the impact of sudden loads and shocks, the coupling protects the connected components from potential damage or premature wear.
2. Misalignment Compensation: One of the primary functions of an HRC coupling is to accommodate misalignment between shafts. It can handle angular, parallel, and axial misalignment, which commonly occur in rotating machinery due to various factors like thermal expansion, manufacturing tolerances, and settling of foundations. By allowing for misalignment, the coupling prevents undue stress on the connected equipment and minimizes the risk of misalignment-related failures.
3. Vibration Damping: Vibrations in rotating equipment can lead to fatigue and wear in connected components. HRC couplings help dampen these vibrations, ensuring smoother operation and reducing the likelihood of resonance or vibration-related failures.
4. Maintenance-Free Options: Some HRC couplings are designed to be maintenance-free, eliminating the need for regular greasing or lubrication. This feature reduces the maintenance requirements of the coupling and, in turn, enhances the reliability of the entire system by minimizing downtime for maintenance activities.
5. High Torque Transmission: HRC couplings are capable of transmitting high torque loads between shafts. By efficiently transmitting power, the coupling ensures that the connected equipment can perform its intended functions reliably and without power-related disruptions.
6. Torsional Stiffness: HRC couplings provide a degree of torsional stiffness, which helps control angular deflection between shafts during operation. This stiffness contributes to the overall stability of the system and protects against excessive torsional vibrations that could lead to mechanical issues.
7. Durability and Longevity: The robust construction and high-quality materials used in HRC couplings contribute to their durability and longevity. They are engineered to withstand harsh operating conditions and resist wear, ensuring a longer service life for the coupling and the connected equipment.
8. Cost-Effectiveness: HRC couplings offer a cost-effective solution for power transmission applications. Their ability to protect connected equipment from shocks, vibrations, and misalignment helps prevent costly downtime and maintenance, making them a reliable and economical choice for various industries.
In summary, HRC couplings enhance the overall reliability of connected equipment by mitigating the adverse effects of shocks, vibrations, and misalignment. With their robust design and ability to accommodate various operating conditions, HRC couplings contribute to the smooth and efficient operation of mechanical systems, reducing the risk of unplanned downtime and extending the lifespan of the connected equipment.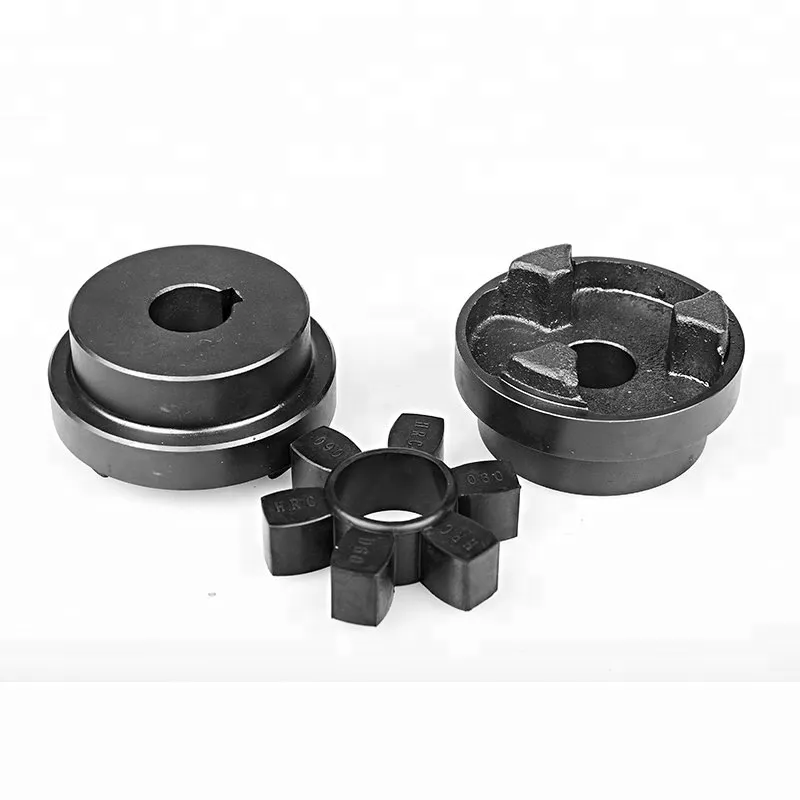 Explanation of Different Types of HRC Coupling Designs
1. HRC Standard Design: The standard or classic HRC coupling design consists of two cast iron hubs with a spider made of an elastomeric material, usually rubber. The hubs have teeth on the inner surface that mesh with the spider, providing torque transmission and flexibility. This design is commonly used in various industrial applications due to its simplicity and cost-effectiveness.
2. HRC Spacer Design: The HRC spacer coupling design is similar to the standard HRC design, but it includes a spacer between the two hubs. The spacer allows for more axial misalignment compensation and can accommodate longer distances between shafts. This design is suitable for applications where additional spacing between the shafts is necessary.
3. HRC Flywheel Design: The HRC flywheel coupling design is specifically used in applications where the coupling is mounted on a flywheel. The design incorporates a flywheel mounting hub on one side and a standard HRC hub on the other side. This allows the coupling to be easily connected to a flywheel for various engine-driven machinery.
4. HRC Taper Lock Design: The HRC taper lock coupling design includes taper lock bushings that enable easy installation and removal of the coupling from the shaft. The hubs have a tapered bore, and the taper lock bushings are inserted into the bore, providing a secure and precise connection to the shaft. This design is commonly used in applications that require frequent coupling removal and reassembly.
5. HRC Brake Drum Design: The HRC brake drum coupling design is used in applications where a brake is required. The design incorporates a brake drum on one of the hubs, allowing the coupling to serve both as a torque transmitting coupling and a brake drum for braking purposes. This design is commonly used in industrial machinery where controlled braking is necessary.
6. HRC Non-Spacer Design: The HRC non-spacer coupling design is similar to the standard HRC design but does not include a spacer. This design is suitable for applications where the shafts are relatively close together, and a spacer is not required for additional misalignment compensation.
7. HRC Stainless Steel Design: The HRC stainless steel coupling design is used in applications where corrosion resistance is essential. The hubs and spider are made of stainless steel, providing better resistance to rust and corrosion. This design is commonly used in industries such as food processing, marine, and pharmaceuticals.
8. HRC Pilot Bore Design: The HRC pilot bore coupling design is supplied with plain bore hubs, allowing the end-users to machine the bore to the required size. This design is beneficial when the shaft sizes are not standard or need to be customized for a specific application.
Overall, these different HRC coupling designs offer flexibility and versatility to suit various power transmission requirements across different industries.



editor by CX 2023-09-18