Product Description
Product Description
COUPLINGS
| | | | | | | | |
| --- | --- | --- | --- | --- | --- | --- | --- |
| HRC | FCL | Chain coupling | GE | L | NM | MH | Torque limiter |
| HRC 70B | FCL90 | KC4012 | GE14 | L050 | NM50 | MH45 | TL250-2 |
| HRC 70F | FCL100 | KC4014 | GE19 | L070 | NM67 | MH55 | TL250-1 |
| HRC 70H | FCL112 | KC4016 | GE24 | L075 | NM82 | MH65 | TL350-2 |
| HRC 90B | FCL125 | KC5014 | GE28 | L090 | NM97 | MH80 | TL350-1 |
| HRC 90F | FCL140 | KC5016 | GE38 | L095 | NM112 | MH90 | TL500-2 |
| HRC 90H | FCL160 | KC6018 | GE42 | L099 | NM128 | MH115 | TL500-1 |
| HRC 110B | FCL180 | KC6571 | GE48 | L100 | NM148 | MH130 | TL700-2 |
| HRC 110F | FCL200 | KC6571 | GE55 | L110 | NM168 | MH145 | TL700-1 |
| HRC 110H | FCL224 | KC8018 | GE65 | L150 | NM194 | MH175 |   |
| HRC 130B | FCL250 | KC8571 | GE75 | L190 | NM214 | MH200 |   |
| HRC 130F | FCL280 | KC8571 | GE90 | L225 |   |   |   |
| HRC 130H | FCL315 | KC1571 |   |   |   |   |   |
| HRC 150B | FCL355 | KC12018 |   |   |   |   |   |
| HRC 150F | FCL400 | KC12571 |   |   |   |   |   |
| HRC 150H | FCL450 |   |   |   |   |   |   |
| HRC 180B | FCL560 |   |   |   |   |   |   |
| HRC 180F | FCL630 |   |   |   |   |   |   |
| HRC 180H |   |   |   |   |   |   |   |
| HRC 230B |   |   |   |   |   |   |   |
| HRC 230F |   |   |   |   |   |   |   |
| HRC 230H |   |   |   |   |   |   |   |
| HRC 280B |   |   |   |   |   |   |   |
| HRC 280F |   |   |   |   |   |   |   |
| HRC 280H |   |   |   |   |   |   |   |
Catalogue
Workshop
   Lots of coupling in stock
 
FAQ
Q1: Are you trading company or manufacturer ?
A: We are factory.
 
Q2: How long is your delivery time and shipment?
1.Sample Lead-times: 10-20 days.
2.Production Lead-times: 30-45 days after order confirmed.
Q3: What is your advantages?
1. The most competitive price and good quality.
2. Perfect technical engineers give you the best support.
3. OEM is available.
| | |
| --- | --- |
| Standard Or Nonstandard: | Standard |
| Structure: | Flexible |
| Material: | Cast Iron |
| Type 6: | HRC180 |
| Type 5: | HRC150 |
| Type 8: | HRC280 |
Customization:

Available

|

Customized Request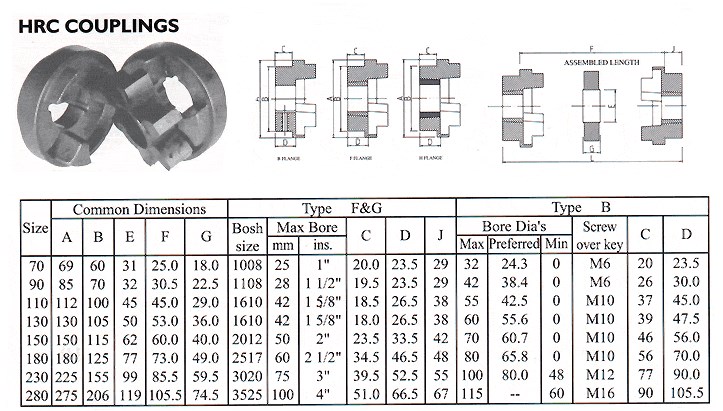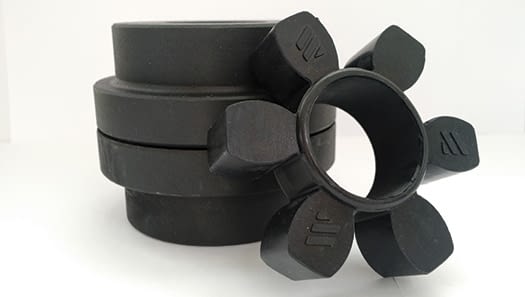 Are There Any Safety Considerations When Using HRC Couplings in Rotating Machinery?
When using HRC (Highly Resilient Coupling) couplings in rotating machinery, several safety considerations should be taken into account to ensure the proper and safe functioning of the coupling and the connected equipment:
Proper Installation: It is crucial to follow the manufacturer's guidelines and recommendations for the correct installation of the HRC coupling. Ensure that the coupling is mounted securely on the shafts and that all fasteners are tightened to the specified torque values.
Alignment: Adequate shaft alignment is essential for the smooth operation of the HRC coupling. Misalignment can lead to increased stress on the coupling and its elastomeric element, reducing its service life and possibly causing premature failure.
Torque Capacity: Before selecting an HRC coupling, verify that it has the appropriate torque capacity for the specific application. Using an undersized coupling can result in overloading, leading to coupling failure and potential damage to connected machinery.
Operating Conditions: Consider the environmental conditions and operating parameters of the machinery when choosing an HRC coupling. Factors such as temperature, humidity, and exposure to chemicals can affect the coupling's performance and longevity.
Regular Inspection: Implement a regular inspection and maintenance schedule for the HRC coupling and the entire power transmission system. Check for signs of wear, corrosion, or any other issues that may require attention. Replace worn or damaged components promptly.
Emergency Stop: Ensure that the rotating machinery is equipped with a proper emergency stop mechanism to quickly shut down operations in case of unexpected events or coupling failure.
Overload Protection: Consider adding overload protection devices to the system to prevent excessive torque or shock loads from reaching the coupling and the connected equipment.
By adhering to these safety considerations and best practices, the risk of accidents, equipment damage, and downtime can be minimized, ensuring a safe and reliable operation of rotating machinery with HRC couplings.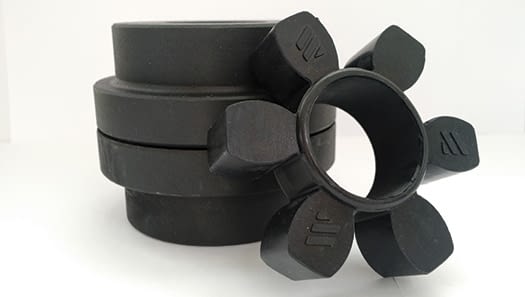 Factors to Consider When Choosing an HRC Coupling for a Specific System
When selecting an HRC coupling for a specific system, several crucial factors should be taken into consideration to ensure optimal performance and reliability:
1. Torque and Power Requirements: Determine the torque and power requirements of the application. This will help in selecting an HRC coupling with the appropriate torque rating and power capacity to handle the load.
2. Shaft Sizes: Check the shaft sizes of the connected equipment. The HRC coupling's bore size should match the shaft sizes to ensure a proper fit and secure connection.
3. Misalignment Tolerance: Evaluate the expected misalignment in the system. HRC couplings are known for their ability to handle angular, parallel, and axial misalignment to a certain degree. Choose a coupling with the appropriate misalignment tolerance for your application.
4. Operating Speed: Consider the operating speed of the machinery. High-speed applications may require specially designed HRC couplings with balanced construction to prevent vibrations and maintain smooth operation.
5. Operating Temperature: Determine the range of operating temperatures in the system. Ensure that the selected HRC coupling can withstand the temperature extremes of the application without compromising its performance.
6. Environmental Conditions: Consider the environmental conditions in which the HRC coupling will operate. Factors such as moisture, dust, and corrosive elements should be taken into account when choosing the appropriate material and coating for the coupling.
7. Space Limitations: Evaluate the available space for the coupling installation. HRC couplings come in various sizes and designs, so choose one that fits within the spatial constraints of the system.
8. Maintenance Requirements: Determine the desired level of maintenance for the coupling. Some HRC couplings are maintenance-free, while others may require periodic inspection and lubrication.
9. Coupling Type: Consider the specific type of HRC coupling that best suits the application. HRC couplings are available in different designs, such as flange, taper bush, and pilot bore, each with its advantages for specific applications.
10. Budgetary Constraints: Finally, consider the budget for the coupling. While cost is an important factor, it should be balanced with the coupling's performance, durability, and suitability for the application.
By carefully evaluating these factors, you can choose the most appropriate HRC coupling for your specific system, ensuring smooth power transmission, longevity, and reliability of your equipment.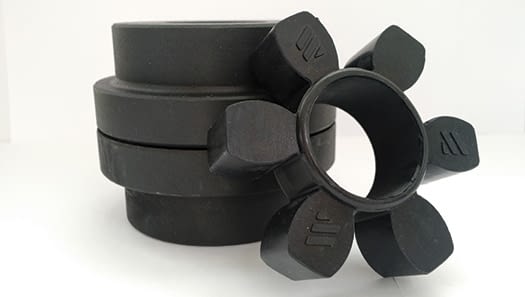 Limitations and Disadvantages of Using HRC Couplings
HRC couplings offer numerous advantages for power transmission in various mechanical systems, but they also have some limitations and disadvantages to consider:
Misalignment Limitation: While HRC couplings can handle a degree of misalignment, they are not as flexible as some other coupling types, such as flexible or elastomeric couplings. Excessive misalignment beyond their specified limits can lead to premature wear and failure.
High Shock Loads: While HRC couplings can handle moderate shock loads, they may not be suitable for applications with very high shock loads. In such cases, specialized couplings like gear or disc couplings may be more appropriate.
Temperature Limitations: HRC couplings have temperature limitations based on the material used in their construction. In high-temperature environments, other coupling types, such as metal disc couplings, may be more suitable.
Noise and Vibration: HRC couplings are not as effective in dampening noise and vibration as some other coupling designs, like flexible couplings with elastomeric elements. In applications where noise reduction is critical, additional measures may be required.
Regular Maintenance: While HRC couplings are generally low-maintenance, they still require periodic inspection and lubrication to ensure optimal performance and prevent unexpected failures.
Component Wear: The flexible elements of HRC couplings, such as the rubber inserts, may experience wear over time, especially in demanding applications. Regular inspection and replacement of these elements may be necessary.
Size and Weight: HRC couplings may be larger and heavier than some other coupling types, which can be a consideration in applications where space and weight are limited.
Cost: HRC couplings can be more cost-effective than some high-performance couplings, but they may not offer the same level of performance and precision in certain applications.
Despite these limitations, HRC couplings remain a popular choice in many industrial applications due to their reliability, simplicity, and cost-effectiveness. Engineers and designers should carefully assess their specific application requirements and consider these factors when selecting the most suitable coupling type for their system.



editor by CX 2023-10-06