Product Description
HRC Wholesale High Flexible Spider Jaw Coupling Pump Marine Shaft Coupling Price
 
Basic information:
Material
Genuine material
Feature
1) One-stop Shopping Experience
2) Different Quality Levels for Customers to Choose
3) Full Excavator Parts Product Lines
Classification
HRC Wholesale High Flexible Spider Jaw Coupling Pump Marine Shaft Coupling Price
OEM service
Yes
Payment
T/T, Western Union, etc.
Port
HangZhou
Quotation
Based on OEM parts or genuine parts, packing, quantity and other requirements
MOQ
For many products, we don't have MOQ limited.
Application
HRC Wholesale High Flexible Spider Jaw Coupling Pump Marine Shaft Coupling Price
 About us:
specialized in:
couplings, rubber mounts, gear parts, hydraulic seals, and seal kits for hydraulic hammers, rock breakers, hydraulic excavators, wheel loaders, and JCB backhoe loaders.
And, Our company also supplies:
Engine parts, hydraulic piston pump and hydraulic travel motor, Swing motor assembly and hydraulic component parts, electric parts, etc. Hydraulic hammer breaker parts with piston, cylinder, chisel, through bolt, side bolt, top bush, front head bushing,accumulator, valve, etc.
We always try our best for all our customers and make it better and better. Welcome!
Products Show:
FAQ:
– What is your core activity (do you deal with engine replacement parts, fuel system, undercarriage, etc)?
We mainly do the couplings, seal kits, hydraulic parts, solenoids, electric parts, gear parts, bearings, and other excavator spare parts.
– Which kind of machinery do you work with (bulldozers, front loaders, graders, excavators, etc)?
We mainly do the spare parts for excavators. But sometimes to meet customers' requirements, we will do the sourcing for the customers for their needs for loader parts, air compressor parts, and so on.
– Do you have the stock?
Most of our products are in stock.
– Can you send us the price lists (so that we do not always bother you when we need the price info)?
Sorry that we don't have a price list. You're welcome to contact us if you need anything.
| | |
| --- | --- |
| After-sales Service: | Online Support |
| Warranty: | 1 Year Warranty on Manufacturing Errors. Wear and |
| Type: | Coupling |
| Application: | Excavator |
| Certification: | CE |
| Condition: | New |
Customization:

Available

|

Customized Request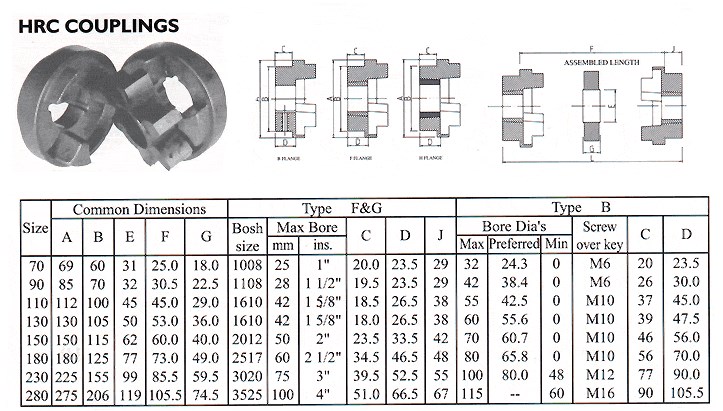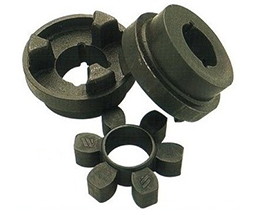 Can HRC Couplings Handle Misalignment Between Shafts?
HRC (Highly Resilient Coupling) couplings are designed to handle a certain degree of misalignment between shafts, making them suitable for applications where alignment issues may arise. These couplings can accommodate both angular and parallel misalignment to some extent, providing flexibility and resilience in mechanical systems.
The flexibility of HRC couplings is primarily due to their construction, which typically includes a flexible element made of rubber or other elastomeric materials. This flexible element sits between two metal hubs and absorbs misalignment by allowing a certain degree of movement.
There are generally two types of HRC couplings based on their ability to handle misalignment:
Single Flex HRC Couplings: These couplings can accommodate angular misalignment but have limited capability to handle parallel misalignment. They are suitable for applications where angular misalignment is more prevalent.
Double Flex HRC Couplings: These couplings are designed to handle both angular and parallel misalignment to a greater degree than single flex couplings. They offer increased flexibility and can handle more demanding misalignment conditions.
It is important to note that while HRC couplings can handle misalignment, they do have limits. Excessive misalignment beyond their specified range can lead to premature wear and failure. It is essential to follow the manufacturer's guidelines and ensure that the coupling is properly installed and aligned to prevent unnecessary stress on the flexible element.
For applications with significant misalignment or where precise alignment is critical, other types of couplings like flexible couplings with elastomeric elements, gear couplings, or disc couplings may be more suitable. Engineers and designers should carefully assess the misalignment requirements of their specific application and choose the appropriate coupling type accordingly.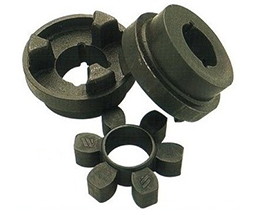 Impact of HRC Couplings on the Overall Reliability of Connected Equipment
HRC (Hytrel Rubber Compression) couplings play a crucial role in enhancing the overall reliability of connected equipment in mechanical power transmission systems. Here are some key ways in which HRC couplings contribute to improved reliability:
1. Shock Absorption: HRC couplings are designed with a flexible elastomeric element (made of Hytrel or similar material) that acts as a shock absorber. It helps dampen and absorb shocks and vibrations generated during the operation of rotating equipment. By reducing the impact of sudden loads and shocks, the coupling protects the connected components from potential damage or premature wear.
2. Misalignment Compensation: One of the primary functions of an HRC coupling is to accommodate misalignment between shafts. It can handle angular, parallel, and axial misalignment, which commonly occur in rotating machinery due to various factors like thermal expansion, manufacturing tolerances, and settling of foundations. By allowing for misalignment, the coupling prevents undue stress on the connected equipment and minimizes the risk of misalignment-related failures.
3. Vibration Damping: Vibrations in rotating equipment can lead to fatigue and wear in connected components. HRC couplings help dampen these vibrations, ensuring smoother operation and reducing the likelihood of resonance or vibration-related failures.
4. Maintenance-Free Options: Some HRC couplings are designed to be maintenance-free, eliminating the need for regular greasing or lubrication. This feature reduces the maintenance requirements of the coupling and, in turn, enhances the reliability of the entire system by minimizing downtime for maintenance activities.
5. High Torque Transmission: HRC couplings are capable of transmitting high torque loads between shafts. By efficiently transmitting power, the coupling ensures that the connected equipment can perform its intended functions reliably and without power-related disruptions.
6. Torsional Stiffness: HRC couplings provide a degree of torsional stiffness, which helps control angular deflection between shafts during operation. This stiffness contributes to the overall stability of the system and protects against excessive torsional vibrations that could lead to mechanical issues.
7. Durability and Longevity: The robust construction and high-quality materials used in HRC couplings contribute to their durability and longevity. They are engineered to withstand harsh operating conditions and resist wear, ensuring a longer service life for the coupling and the connected equipment.
8. Cost-Effectiveness: HRC couplings offer a cost-effective solution for power transmission applications. Their ability to protect connected equipment from shocks, vibrations, and misalignment helps prevent costly downtime and maintenance, making them a reliable and economical choice for various industries.
In summary, HRC couplings enhance the overall reliability of connected equipment by mitigating the adverse effects of shocks, vibrations, and misalignment. With their robust design and ability to accommodate various operating conditions, HRC couplings contribute to the smooth and efficient operation of mechanical systems, reducing the risk of unplanned downtime and extending the lifespan of the connected equipment.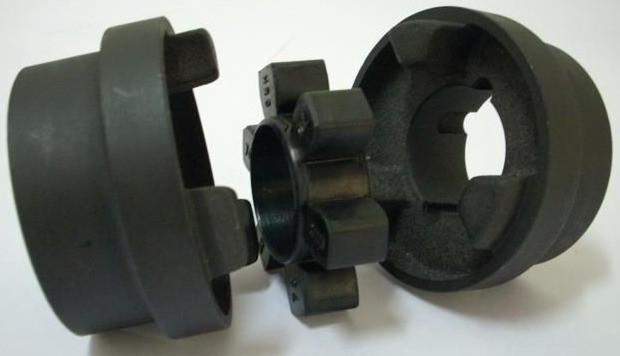 Materials Used in Manufacturing HRC Couplings
HRC couplings are typically made from a combination of different materials to provide the necessary properties for efficient power transmission and durability. The common materials used in manufacturing HRC couplings include:
Cast Iron: Cast iron is a widely used material for HRC couplings due to its excellent strength, durability, and resistance to wear and deformation. It is suitable for various industrial applications and can handle substantial torque and misalignment.
Steel: Steel is another popular choice for HRC coupling construction. It offers high tensile strength, good fatigue resistance, and the ability to handle high-speed applications. Steel HRC couplings are suitable for demanding environments and heavy-duty machinery.
Stainless Steel: Stainless steel HRC couplings are ideal for applications where corrosion resistance is essential. They are commonly used in industries such as food processing, pharmaceuticals, and marine environments.
Aluminum: Aluminum HRC couplings are lightweight and have excellent corrosion resistance. They are suitable for low to medium torque applications where weight reduction is a concern.
Bronze: Bronze is used in specialized HRC coupling designs, particularly for applications requiring low friction and high wear resistance. It is commonly used in marine and heavy machinery applications.
Polyurethane: Polyurethane is used for the flexible elements of HRC couplings. It offers good shock absorption and vibration damping properties, contributing to the coupling's ability to protect connected equipment from shocks and vibrations.
Other Composite Materials: Some HRC couplings may feature composite materials that combine the benefits of different materials, such as rubber compounds with metal reinforcement, to provide specific performance characteristics.
The material selection for HRC couplings depends on the application requirements, including torque, speed, environmental conditions, and industry standards. Manufacturers often provide a range of material options to suit various applications and ensure reliable and efficient power transmission.



editor by CX 2023-09-04