Product Description
HRC Coupling, Gr Coupling, L Type Coupling, Sbt Coupling, Hb Coupling, FCL Coupling, Nl Coupling
Description: the polyurethane elastomeric is a new material of polymer synthetic between rubber and plastic. It has both high strength of plastic and high elasticity of rubber. Its characteristics are: 1, a wide range of hardness. It still has rubber elongation and resilience at high hardness. The polyurethane elastomeric has a hardness range of Shore A10-D80. 2. high strength. At rubber hardness, the tensile strength, tear strength and load carrying capacity are much higher than general rubber material. At high hardness, its impact strength and flexural strength are much higher than plastic material. 3, wear-resistant. Its wear resistance is very outstanding, generally in the range of 0.01-0.10cm3/1.61km, about 3-5 times than rubber material. 4, oil resistant. The polyurethane elastomeric is a highly CZPT polymer compound which has low affinity with non-polar mineral oil and is hardly eroded in fuel oil and mechanical oil. 5, good resistance to oxygen and ozone. 6, excellent vibration absorption performance, can do damping and buffering. In the mold manufacturing industry, it replaces rubber and springs.7, has good low temperature performance. 8, radiation resistance. Polyurethane is highly resistant to high energy radiation and has satisfactory performance at 10-10 deg radiation dose. 9, with good machining performance.
The polyurethane coupling, rubber coupling are made by injection with high quality TPU material or mould CSM/SBR. It is designing and special for all kinds of metal shaft coupling with very good performance of high tensile strength, high wear resistant, high elastic resilience, water resistant, oil resistant and excellent fatigue resilience, high impact resistant etc. We have full sets injection moulds and supply full range of GR, GS, MT, ML, MH, Hb, HRC, L, T, NM and Gear J series couplings etc. with high quality and excellent experience. Apply to all kinds of industrial metal shaft coupling.
Specifications:
material: TPU, CSM/SBR, NBR, nylon etc.
color: yellow, red, purple, green, black, beige etc.
surface: smooth
tensile strength: 8-55Mpa
hardness: 70-98Shore A
elongation: 400%-650%
density: 1.25g/cm3
elasticity impact: >25%
tear strength: 35-155KN/m
akron abrasion loss:<0.05cm3/1.61km
compression set (22h*70°C):<10%
working temperature: 120°C
standard size for polyurethane coupling: 
GR14, GR19, GR24, GR28, GR38, GR42, GR48, GR55, GR65, GR75, GR90, GR100, GR110, GR125, GR140, GR160, GR180
GS5, GS7, GS9, GS12, GS14, GS19, GS24, GS28, GS38, GS42, GS48, GS550, GS65, GS75
MT1, MT2, MT3, MT4, MT5, MT6, MT7, MT8, MT9, MT10, MT11, MT12, MT13
ML1, ML2, ML3, ML4, ML5, ML6, ML7, ML8, ML9, ML10, ML11, ML12, ML13
MH45, MH55, MH65, MH80, MH90, MH115, MH130, MH145, MH175, MH200
HRC70, HRC90, HRC110, HRC130, HRC150, HRC180, HRC230, HRC280
L35, L50, L70, L75, L90/95, L99/100, L110, L150, L190, L225, L276
FALK-R 10R, 20R, 30R, 40R, 50R, 60R, 70R, 80R
SBT T40, T45, T50, T55, T60, T65, T70, T75, T80, T85, T90, T95, T100, T105, T108, T110, T115, T120, T125, T130, T135, T140, T145, T150, T154, T170, T185, T190, T210
Joong Ang CR0050, 0070, 571, 571, 2035, 2035A, 3545, 4560, 6070, 7080
MS571, MS571, MS1119, MS1424, MS1928, MS1938, MS2845, MS3860, MS4275, MS6510
D14, D14L, D20, D25, D30, D30L, D35, D40, D45, D49, D55, D65
5H, 6H, 7H, 8H, 9H, 10H, 11H
standard size for rubber coupling:
Hb80, Hb95, Hb110, Hb125, Hb140, Hb160, Hb180, Hb200, Hb240, Hb280, Hb315
HRC70, HRC90, HRC110, HRC130, HRC150, HRC180, HRC230, HRC280
L35, L50, L70, L75, L90/95, L99/100, L110, L150, L190, L225
NM50, NM67, NM82, NM97, NM112, NM128, NM148, NM168, NM194, NM214, NM240, NM265
NOR-MEX168-10, NOR-MEX194-10, NOR-MEX214-10, NOR-MEX240-10, NOR-MEX265-10
FCL1#, FCL2#, FCL3#, FCL4#, FCL5#, FCL6#, FCL7#, FCL8#
FCL90, FCL100, FCL112, FCL125, FCL140, FCL160, FCL180, FCL200, FCL224, FCL250, FCL280, FCL315, FCL335, FCL400, FCL450, FCL560, FCL630
Gear 3J, 4J, 5J, 6J, 7J, 8J, 9J, 10J, 11J, 12J, 13J, 14J
Hytre 4H, 5H, 6H, 7H, 8H, 9H, 11H
Tyre F40, F50, F60, F70, F80, F90, F100, F110, F120, F140, F160 
SBT T75, T80, T85, T90, T95, T100, T105, T108, T110, T115, T120, T125, T130, T135, T140, T145, T150, T154, T170, T210
FCLpin #1, #2, #3, #4, #5, #6, #8
GR42, GR48, GR55, GR65, GR75
DL1, DL2, DL3, DL4, DL5, DL6, DL7, DL8, DL9, DL10, DL11
standard size for nylon coupling:
NL1, NL2, NL3, NL4, NL5, NL6, NL7, NL8, NL9, NL10
M28, M32, M38, M42, M48, M58, M65
packing in bags, cartons, pallets or crates
OEM & customized size are agreed
special supply all kinds of steel coupling for FCL, NM, MH, HRC, Love Joy, Joongang, Centafelx, XL-GR, Tyre
***when you enquiry, pls confirm type, size number and quantity***
 
| | |
| --- | --- |
| Standard: | DIN, ANSI, GB |
| Material: | Rubber or Polyurethane |
| Connection: | HRC Type |
| Surface Treatment: | Smooth |
| Head Type: | HRC Type |
| Color: | Black |
Samples:

US$ 0/Piece

1 Piece(Min.Order)

|
Request Sample
Customization:

Available

|

Customized Request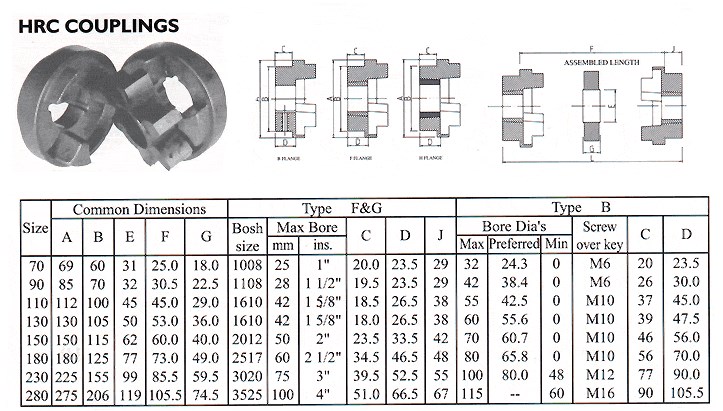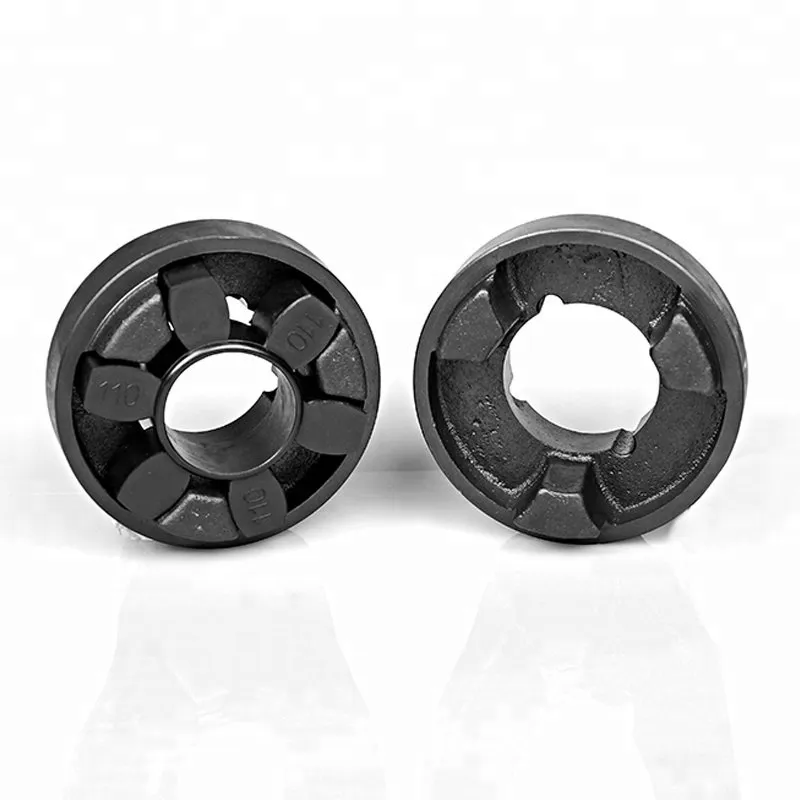 Can HRC Couplings Accommodate High Torque and High-Speed Applications?
HRC (Highly Resilient Coupling) couplings are designed to handle a wide range of torque and speed requirements, making them suitable for various industrial applications, including those involving high torque and high-speed conditions. Their ability to accommodate high torque and high-speed applications depends on several factors:
Coupling Size and Type: HRC couplings come in various sizes and types, each with its torque and speed ratings. Larger couplings with robust designs can handle higher torque and speed than smaller ones.
Material Composition: HRC couplings consist of a metal hub and a flexible elastomeric element. The material composition of the elastomer plays a significant role in determining the coupling's torque and speed capabilities.
Elastomer Properties: The elastomeric element in HRC couplings provides flexibility and damping. It should be selected based on its resilience, durability, and ability to withstand the intended torque and speed requirements.
Application Requirements: The coupling's torque and speed ratings must match or exceed the demands of the application. Factors such as the driven and driving equipment's power, load characteristics, and operational conditions should be considered.
Proper Installation: Correct installation, including accurate alignment and proper torqueing of the coupling, ensures optimal performance and minimizes the risk of premature failure in high torque and speed applications.
It's important to consult the manufacturer's specifications and guidelines to select the appropriate HRC coupling for a specific high torque and high-speed application. Using an undersized or unsuitable coupling can lead to premature wear, reduced efficiency, and potential safety hazards.
In summary, HRC couplings are well-suited for high torque and high-speed applications when properly selected, installed, and maintained. They offer the benefits of damping vibrations, shock absorption, and misalignment compensation while reliably transmitting power in demanding industrial settings.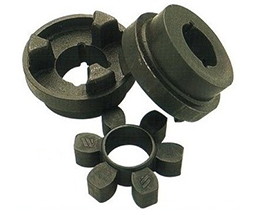 Can HRC Couplings Be Used in Both Horizontal and Vertical Shaft Arrangements?
Yes, HRC (Highly Resilient Coupling) couplings can be used in both horizontal and vertical shaft arrangements, making them versatile options for various applications.
Horizontal Shaft Arrangements: In horizontal shaft arrangements, the shafts are positioned parallel to the ground, and the rotational axis is horizontal. HRC couplings are commonly used in this configuration to transmit torque between two shafts with a certain level of misalignment. They are particularly effective in absorbing shock loads, dampening vibrations, and compensating for slight misalignments, which are often encountered in rotating machinery.
Vertical Shaft Arrangements: In vertical shaft arrangements, the shafts are positioned vertically, and the rotational axis is perpendicular to the ground. This configuration is commonly found in applications such as vertical pumps, vertical motors, and gearboxes. When using HRC couplings in vertical shaft arrangements, additional consideration is required to ensure that the coupling can support the weight of the connected equipment and accommodate any potential misalignment due to gravitational forces.
When selecting an HRC coupling for a vertical shaft arrangement, it is essential to choose a coupling with adequate torque capacity and stiffness to handle the weight of the equipment and any dynamic forces resulting from the vertical orientation.
In summary, HRC couplings are suitable for both horizontal and vertical shaft arrangements, providing reliable power transmission and compensating for misalignment and vibration in various mechanical systems.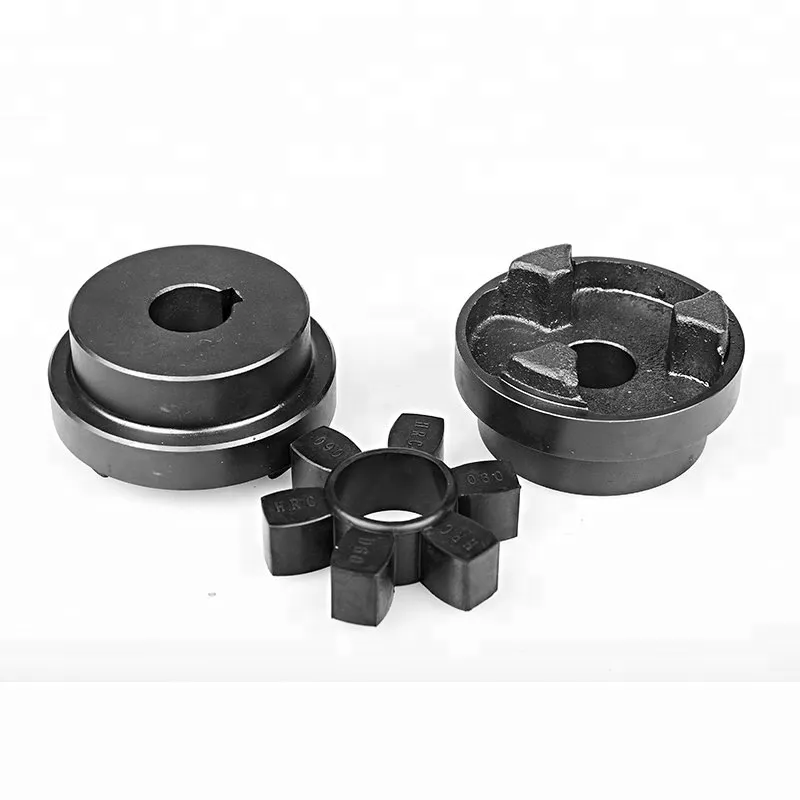 Explanation of Different Types of HRC Coupling Designs
1. HRC Standard Design: The standard or classic HRC coupling design consists of two cast iron hubs with a spider made of an elastomeric material, usually rubber. The hubs have teeth on the inner surface that mesh with the spider, providing torque transmission and flexibility. This design is commonly used in various industrial applications due to its simplicity and cost-effectiveness.
2. HRC Spacer Design: The HRC spacer coupling design is similar to the standard HRC design, but it includes a spacer between the two hubs. The spacer allows for more axial misalignment compensation and can accommodate longer distances between shafts. This design is suitable for applications where additional spacing between the shafts is necessary.
3. HRC Flywheel Design: The HRC flywheel coupling design is specifically used in applications where the coupling is mounted on a flywheel. The design incorporates a flywheel mounting hub on one side and a standard HRC hub on the other side. This allows the coupling to be easily connected to a flywheel for various engine-driven machinery.
4. HRC Taper Lock Design: The HRC taper lock coupling design includes taper lock bushings that enable easy installation and removal of the coupling from the shaft. The hubs have a tapered bore, and the taper lock bushings are inserted into the bore, providing a secure and precise connection to the shaft. This design is commonly used in applications that require frequent coupling removal and reassembly.
5. HRC Brake Drum Design: The HRC brake drum coupling design is used in applications where a brake is required. The design incorporates a brake drum on one of the hubs, allowing the coupling to serve both as a torque transmitting coupling and a brake drum for braking purposes. This design is commonly used in industrial machinery where controlled braking is necessary.
6. HRC Non-Spacer Design: The HRC non-spacer coupling design is similar to the standard HRC design but does not include a spacer. This design is suitable for applications where the shafts are relatively close together, and a spacer is not required for additional misalignment compensation.
7. HRC Stainless Steel Design: The HRC stainless steel coupling design is used in applications where corrosion resistance is essential. The hubs and spider are made of stainless steel, providing better resistance to rust and corrosion. This design is commonly used in industries such as food processing, marine, and pharmaceuticals.
8. HRC Pilot Bore Design: The HRC pilot bore coupling design is supplied with plain bore hubs, allowing the end-users to machine the bore to the required size. This design is beneficial when the shaft sizes are not standard or need to be customized for a specific application.
Overall, these different HRC coupling designs offer flexibility and versatility to suit various power transmission requirements across different industries.



editor by CX 2023-08-10